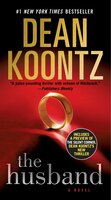 TITLE: THE HUSBAND
AUTHOR: DEAN KOONTZ
DATE: 2007
This was the first-ever Dean Koontz novel that I have read. He came recommended to me by a person on an online site that I am on. I wasn't sure at first when I started to read but then I was sucked in. His style of writing is very good and it captures you almost right away.
The Husband, Mitchell Rafferty, is a landscape contractor. One day a job he receives a phone call telling him that his wife Holly has been kidnapped, and unless he can come up with two million dollars in a very short time, she will be killed. To prove that they are serious, the kidnappers direct Mitch to look for a dog walker who is coming up across the street. As he watches, the man is shot in the head. The police are called. When he returns home, having been told to tell no one about the kidnapping, his kitchen looks as if a bloody struggle has taken place, and he realizes that it has been staged so that he will appear to be Holly's murderer if the police should investigate.
Mitch and his brother and three sisters have had an unusual upbringing. His parents, both tenured professors of psychology at UCI.
In adulthood, all of them dislike, if not hate, their parents—the three sisters living as far from them as possible and having no contact, Mitch working in landscaping and having little to do with them, and his brother Anson living in Newport Beach, where he is a multimillionaire. As Mitch discusses his parents with Anson, Anson comments, " I have no shame, no capacity for guilt."
Mitch has no idea at all why Holly has been kidnapped. In the meantime, Mitch has been forced to fight for his life against an intruder in his house, his house and car have been bugged, and his brother Anson has suddenly balked at providing the ransom money. He has no idea of the motive or why these events are happening. As it finally becomes clear the reason behind the kidnapping, the terrifying implications regarding Holly's future become clear, and Mitch's ability to rescue her seems more and more unlikely.
There are many moments of excitement, plus an ever-increasing body count, and several fight-to-the-death episodes keep the action very high. I found it to be suspenseful and a page-turner and hard to put down at times.
copyright 2010, Cindy (Cindy's Love Of Books)
If you are reading this on a blog or website other than Cindy's Love Of Books or via a feedreader, this content has been stolen and used without permission.