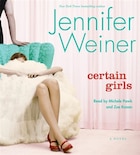 TITLE: CERTAIN GIRLS
AUTHOR: JENNIFER WEINER
DATE: APRIL 2008
Jennifer Weiner's first novel, Good In Bed, and this latest one, Certain Girls, are written from the voice of Philadelphia Jewish girl, writer, mother, and wife Cannie Shapiro. I fell in love with Good in Bed and couldn't put it down. I ended up rereading it so that I could remember everything about Cannie.
Since we left her, Cannie has published a best-selling fictionalized sexually-charged version of her life (which she tries to hide, and continues to write books using a different name and writing science fiction novels at a steady salary). She marries a diet doctor Peter Krushelevansky, and settles down to raise her daughter Joy. As Joy nears her bat mitzvah she discovers her mother's novel, cannot separate fact from fiction, and goes on her personal mission to discover her identity while at the same time Peter decides he wants to have another baby with the uterus-free Cannie.
Throw in Joy's insane but brilliant Aunt Elle, her lesbian grandmother, estranged grandfather, her father Bruce and his new wife and family, and all of the angst of being 13 and you get the picture.
Jennifer writes this novel from two perspectives in two unique voices, Cannie and Joy. As the stories unfold we experience the drama from both the perspective of mother and daughter, and this adds extra layers of depth to the story line.
This is a book about life and living. Parts are laugh out loud hysterically funny and parts will just make you cry. And the end is a shocker; I did not see it coming and neither will you. But again, that's life, isn't it?
copyright 2010, Cindy (Cindy's Love Of Books)
If you are reading this on a blog or website other than Cindy's Love Of Books or via a feedreader, this content has been stolen and used without permission.