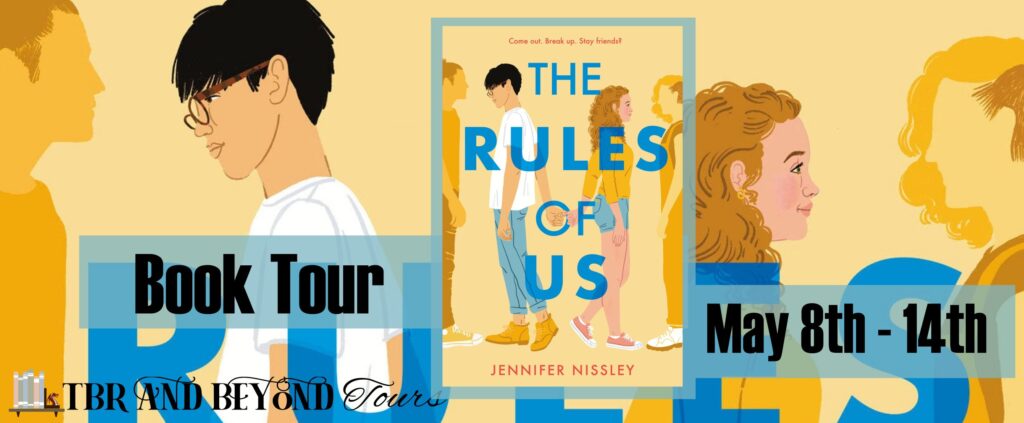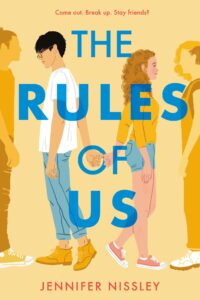 Book Info:
The Rules of Us by Jennifer Nissley
Genre: Young Adult Contemporary
Publishing Date: May 9, 2023
Synopsis:
Come out. Break up. Stay friends? In this heartwarming queer love story about love of all kinds, exes navigate new crushes, new feelings, and a newly uncertain future after unexpectedly coming out to each other on prom night turns their lives–and their friendship–upside down. Can they figure out how to move on without losing each other?
Jillian and Henry are the kind of couple who do everything together. They take the same classes, have the same hobbies, and applied for the same super-competitive scholarship so they can go to the same dream college. They even come out as gay to each other on the same night, after junior prom, prompting a sudden breakup that threatens their intertwined identities and carefully designed future. Jillian knows the only way to keep everything on track is to approach their breakup with the same precision and planning as their scholarship application. They will still be "Jillian and Henry"–even if they're broken up.
Except they hadn't planned on Henry meeting the boy of his dreams or Jillian obsessing over a cool girl at school. Jillian is desperate to hold on to her best friend when so much else is changing. But as she and Henry explore what–and who–they really want, it becomes harder to hold on to the careful definitions she has always lived her life by. Stuck somewhere between who she was with Henry and who she might be on her own, Jillian has to face what she can't control and let go of the rules holding her back.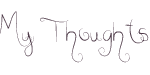 Before I begin my review I quickly have to thank TBR and Beyond Tours for allowing me to be a part of this book tour and for graciously providing me with an eArc of the book to read for my review stop today.
This is completely off-topic but I have to say that I am loving the color scheme of the covers that publishers are using with the yellow/mustard almost vintage look this last little while.
The book is told from Jillian's point of view and as much as I appreciate that I wish it would have also been told from Henry's point of view as well. I enjoyed knowing how Jiliian was feeling and what she was going through but I always wanted to know the same thing from Henry. I think that that could have added a whole other dimension to the book.
With that being said our two main characters are Jillian and Henry. Plus side characters of family and love interests. I found them to be believable. They were both smart driven people. The only downfall is that they let their emotions dictate what they did. I loved that both Jillian and Henry were flawed and not perfect people and friends that we read about in so many young adult books. Yes, we like to believe everything is honky dory but in real life, it's not. Nobody is perfect.
Jillian and Henry are best friends who are trying to navigate themselves and their sexuality. Jillian is a junior in high school and she has her life and Henry's planned out. They are both graduating with honors and are planning on going to the same university and following the same dream of studying video game design.
Jillian and Henry have been dating for years and things seem to be going better than expected until Henry puts a kink into that dream. How will Jillian cope? Can she be true to who she really is?
I do have to say that the book started off a little slow but if you push through it it's so worth it in the end. This was definitely not a light one-sitting read. As I read YA books now (we clearly know that I am not the targeted demographic) I have to applaud the authors for writing about these important themes and topics that are so important in this day. I only wish we had these kinds of books when I was a young adult.
I know after reading this that I will definitely be checking out Jennifer's future books.
Book Links:
Goodreads: https://www.goodreads.com/book/show/62562913
Amazon: https://www.amazon.com/gp/product/0593484908/
Barnes & Noble: https://www.barnesandnoble.com/w/the-rules-of-us-jennifer-nissley/1142194708
IndieBound: https://bookshop.org/p/books/the-rules-of-us/18850067?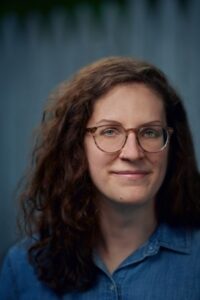 About the Author:
Jennifer Nissley (she/her/hers) is the author of THE MYTHIC KODA ROSE, which was published by Simon & Schuster in Summer 2021. Although her first love is writing, she is powerfully attracted to video games, horses, and pretty much any piece of clothing or interior design with an animal on it.
She received her MFA in Fiction from Stony Brook Southampton and lives in Queens with her wife and doggo, but sadly no horses.
Currently, she's at work on multiple writing projects.
Author Links:
Website: https://jennifernissley.com/
Twitter: https://twitter.com/jenissley88
Instagram: https://www.instagram.com/jennifer.nissley/
Goodreads: https://www.goodreads.com/author/show/20377665.Jennifer_Nissley
Tour Schedule:
https://tbrandbeyondtours.com/2023/03/25/tour-schedule-the-rules-of-us-by-jennifer-nissley/