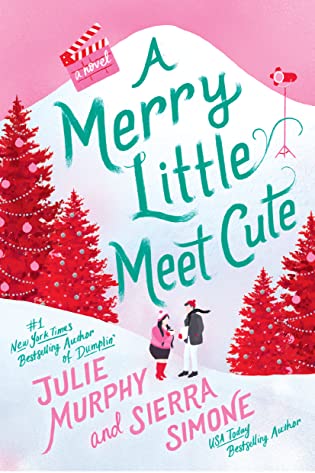 A Merry Little Meet Cute
by Julie Murphy, Sierra Simone
Published by
Avon on September 20, 2022
Pages:
418
Goodreads
Cowritten by #1 New York Times bestselling author Julie Murphy and USA Today bestselling author Sierra Simone—a steamy plus-size holiday rom-com about an adult film star who is semi-accidentally cast as a lead in a family-friendly Christmas movie, and the former bad-boy pop star she falls in love with.
Bee Hobbes (aka Bianca Von Honey) has a successful career as a plus-size adult film star. With a huge following and two supportive moms, Bee couldn't ask for more. But when Bee's favorite producer casts her to star in a Christmas movie he's making for the squeaky-clean Hope Channel, Bee's career is about to take a more family-friendly direction.
Forced to keep her work as Bianca under wraps, Bee quickly learns this is a task a lot easier said than done. Though it all becomes worthwhile when she discovers her co-star is none other than childhood crush Nolan Shaw, an ex-boy band member in desperate need of career rehab. Nolan's promised his bulldog manager to keep it zipped up on set, and he will if it means he'll be able to provide a more stable living situation for his sister and mom.
But things heat up quickly in Christmas Notch, Vermont, when Nolan recognizes his new co-star from her ClosedDoors account (oh yeah, he's a member). Now Bee and Nolan are sneaking off for quickies on set, keeping their new relationship a secret from the Hope Channel's execs. Things only get trickier when the reporter who torpedoed Nolan's singing career comes snooping around—and takes an instant interest in mysterious newcomer Bee.
And if Bee and Nolan can't keep their off-camera romance behind the scenes, then this merry little meet cute might end up on the cutting room floor.

Later this evening (December 13/22) I will attend the Harper Collins Canada Holiday Book Ball. I took part last year and it was a lot of fun I got to discover a few new authors. I am excited to hear Julie Murphy, Sierra Simone, Dhonielle Clayton, and debut Canadian author Robin Lefler all speak about the latest releases.
First up is A Merry Little Meet Cute by Julie Murphy and Sierra Simone. For me personally, Julie Murphy's books are an automatic buy for me because I love everything she writes. I always find her to be a relatable author if that makes sense. Now Sierra Simone is a new to me author and after reading this I instantly had to check out her backlist of titles and I am currently in a buddy read for her book Priest and OMG is all I am going to say. I will definitely be adding Sierra to my TBR in the new year.
(UPDATING TO ADD) Tonight Julie revealed that this will be a three-book trilogy with novellas in between each book. The upcoming books will revolve around each of the three boyband members which I am thrilled about because I wanted to know more about each one. I believe the first novella will be in the summer of 2023 and the second book in late 2023. It was so much fun listening to the authors speak tonight. Sadly Dhonielle was unable to attend.
I have to admit that when I heard Julie had a new book coming out I instantly preordered it. I had a vague idea of what the book was about. To be honest I didn't want to know. I wanted to go into this blind and I am happy that I did.
Before I begin I think the cover is so pretty and the chapter headers were unique as I never saw anything like that before in books. Each chapter started with an image that was in reference to the story.
A Merry Little Meet Cute takes place in a Christmasy little town in Vermont called Christmas Notch. Having been to Vermont numerous times I could actually envision this little town in my head and if Christmas Notch was real I would definitely want to visit it.
The book is centered around three characters Teddy (the porn producer), Bee (the porn star), and Nolan (one member of a boyband). Teddy is trying to make a name for himself in mainstream media by producing a wholesome Christmas movie on the Hope Channel. He needs this to work out because he has art school to pay for. Will Teddy be able to pull this off without people or the Hope Channel bosses finding out who he really is and what he really does? Or will this all blow up in his face?
With mere days to go before filming begins, Teddy discovers that key members of his crew (the star actress, costume, hair & makeup, and the gaffer) were seriously injured at an event and he needs to replace them asap. He quickly meets up with the director (Gretchen)  to show her headshots of the ladies they had auditioned only thing is he accidentally has a picture of Bee (AKA Bianca von Honey) from a still from a recent movie. Gretchen wants her to be the leading star, Teddy knows she is a good actress but could she pull it off without anyone realizing who she really is?
Bee has always wanted to be an actress and when Teddy told her about his plan she has been begging him ever since to cast in her this. When she is approached she is a little apprehensive but quickly decides to do this. When she agrees Teddy has some rules she must follow. Will be able to follow the rules? Will she be able to be  Bee or will her past come back to haunt her? Will Bee be able to control herself around Nolan because she has been crushing on him since she was a teen?
Now there is Nolan the leading male and he just wants to clear his name and leave his bad reputation behind him. His rep has rules for him to follow and he has to do everything in his power to do so because he can't afford to lose this job. He needs the money to support his family, especially his mom who is struggling with her mental health.
Nolan has no idea who his partner in this movie is until he arrives on set and he is shocked when he discovers who Bee really is (his favorite from Closed Doors). You know where this is going to go. Can Nolan follow the rules his rep gave him or will he give in to temptation?
I have to admit that this is not the normal genre I read but sometimes you have to step out every now and again to change things up.
As I was reading I thought for sure it would have all blown up sooner with people finding out who Teddy, Bee and the crew really were they all managed to keep it under control but they managed to keep it all under wraps.
I knew as I was reading that at some point things are going to blow up when it does and that is exactly what happens. Can everyone get over what has been said when it does? In the heat of the moment when things are on the line, we all say something we shouldn't have and regret it.
I definitely want to continue this trilogy because I want to find out what happened to Nolan's bandmates, Isaac and Kallum. They have a story and it needs to be read.