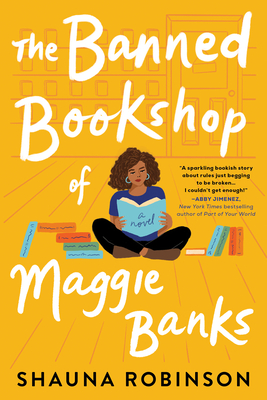 The Banned Bookshop of Maggie Banks
by Shauna Robinson
Published by
Sourcebooks Landmark on November 1, 2022
Pages:
350
Goodreads
From acclaimed author Shauna Robinson comes a bookish, millennial story about a young woman looking to start a new chapter in her life, and in doing so finds a community built around the books we love and the stories we can't forget.
Who decides which stories are worth telling?
Maggie Banks's life is a bit of a mess. After losing a job and moving back home with her parents, she's desperate for a new Life Plan. So when her best friend asks for help running her struggling bookstore in the quaint town of Bells River, Maggie jumps on the opportunity. She doesn't even like books, per se, but anything's better than obsessively checking job boards from her childhood bedroom.
It turns out Maggie's not prepared for small-town life. More specifically, the strict rules enforced by the local historical society: the bookstore is only allowed to sell "classics". But with a town full of people looking for fresh stories, Maggie knows she'll have to get creative to keep the store afloat.
And so begins Maggie's underground book club: fun, goofy, and totally against the rules. Catering to the stories folks actually want to read and making fun of the stuffy "classics", Maggie falls in love with books and realizes the power stories have to build community. But with a historical society itching to catch her and shut her down for good, and a budding relationship with an adorably strait-laced inspector weighing on her conscience, everything starts to fall apart. And just as Maggie feels herself becoming a part of the community, she unearths a town secret that could ruin everything. She'll have to figure out what's more important: the books that formed a small town's history, or the stories poised to change it all.
A warm, funny book club read about community, finding yourself, and the transformative power of stories, The Banned Bookshop of Maggie Banks is a much-needed novel perfect for readers of The Storied Life of AJ Fikry and The Bookish Life of Nina Hill.


Before I begin my review I quickly have to send out a huge Thank You to Sourcebooks who graciously provided me with an eArc of Shauna Robinson's second book The Banned Bookshop of Maggie Banks for my review today. When I saw that Shauna was coming out with this book I instantly had to request it.
A few months ago I read her debut Must Love Books (you can click on the title to see my review) and I really enjoyed it after reading my review I instantly remember the book so when The Banned Bookshop of Maggie Banks was announced I had to read it and I am so happy that I did because I absolutely loved it. I mean how can you not love a book about books, a bookshop, and banned books?
As you can guess the main character is Maggie, and her life is a little off track. She lost her job and is about to move back home. She knows she needs to figure things out and get her life back on track and become a responsible 28-year-old. So, when her best friend Rochelle asks her for help Maggie goes to help. Rochelle lives in a little town outside of DC called Bell River. Rochelle has to go on maternity leave and needs someone to help run Cobblestone Books. Figuring she has nothing to lose she takes Rochelle up on her offer and lets her know that she knows nothing about running a bookstore let alone anything about books. Rochelle insists she will be around to help Maggie figure things out.
Maggie thinks Bell River is just like every other town in America (secrets and all) but what she doesn't know is that Bell River is a literary town. It's also very much a tourist town. This town is all about a literary legend named Edward Bells. Everything in this town has to do with Edward Bells. His family (grandson Ralph) owns half the businesses there and they are all run in a certain way including the bookstore.
Cobblestone Books sells books that were read and loved by Edward Bell in his lifetime (he passed in 1968), mostly classics and nothing else. If you want the newest romance book or thriller you have to drive to another town to Barnes & Noble. Can you imagine living in a town like this?
Ralph is not too happy that Maggie is running the bookstore and has his eye on her. He sends Malcolm, who is one of his employees to keep an eye on her. He wants to make sure Maggie is doing what she is told to do. Maggie is not thrilled with them. As the book progresses Maggie begins to see Malcolm in a different light. Can they change each other for good?
Maggie sees the potential this bookstore has if it could expand its inventory. Then one day a local author steps into the Cobblestone Books and things begin to click. Maggie knows there is a demand for other kinds of books. Can Maggie pull it off or will she be caught? What will Ralph say if he finds out?
If you want to know more then I highly recommend that you add this to your tbr.
This was a fun and quick read. I really enjoyed this one and will definitely read more of Shauna's books in the future.