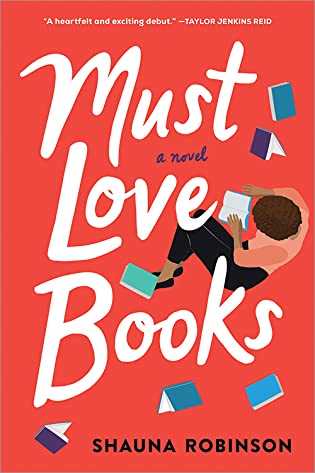 Must Love Books
by Shauna Robinson
Published by
Sourcebooks on January 18, 2022
Pages:
336
Goodreads

The Bookish Life of Nina Hill
meets Younger in a heartfelt debut following a young woman who discovers she'll have to ditch the "dream job" and write her own story to find her happy ending.
Meet Nora Hughes—the overworked, underpaid, last bookish assistant standing. At least for now.
When Nora landed an editorial assistant position at Parsons Press, it was her first step towards The Dream Job. Because, honestly, is there anything dreamier than making books for a living? But after five years of lunch orders, finicky authors, and per my last emails, Nora has come to one grand conclusion: Dream Jobs do not exist.
With her life spiraling and the Parsons staff sinking, Nora gets hit with even worse news. Parsons is cutting her already unlivable salary. Unable to afford her rent and without even the novels she once loved as a comfort, Nora decides to moonlight for a rival publisher to make ends meet…and maybe poach some Parsons' authors along the way.
But when Andrew Santos, a bestselling Parsons author no one can afford to lose is thrown into the mix, Nora has to decide where her loyalties lie. Her new Dream Job, ever-optimistic Andrew, or...herself and her future.
Your next book club read touching on mental health, happiness, and the peaks and perils of being a young woman just trying to figure it all out. Nora Hughes is the perfect heroine for anyone looking to get past their own chapter twenty-something and build their storybook life.
Before I begin my review I quickly have to thank Sourcebooks for graciously sending me an eArc of Must Love Books for me to review today.
This is Shauna Robinson's debut novel.
The main character is Nora and she is an editorial assistant and is stuck in a rut. She has been working in a publishing house in the same role for five years and she feels like she isn't going anywhere with no promotions insight. It seems like everyone she has worked with is moving on and when it's announced that she will be getting a pay cut, will this be the straw that breaks the camel's back?
When Nora was first hired she was beyond thrilled because this was her dream job. But over the years it's not turning out the way she dreamed it would be. As more people are leaving her work starts to pile up and she is struggling to keep it all together. Then one day it's announced that her pay is going to be cut.
Quickly doing the calculations she realizes this pay cut will hit hard and she begins to worry about how she will make ends meet. She doesn't want to have to move back home. She realizes she needs a better-paying job. After a promising lunch date with her former boss who left to go work at another publishing house offers her a job. The only thing is they can't offer her a full-time job at the moment so Nora has no choice and decides to moonlight and keep both jobs. She takes on this freelance job realizing that it's wrong. It's a big no-no in the publishing world and if she gets caught it won't be good for Nora and she will be pretty much blackballed.
At Nora's first job she is encouraged to get a famous author, Andrew to sign the contract for his second book. Nora thinks that this will be easy to convince him to sign but what she doesn't expect is that they both like each other and Andrew confides to her that he isn't really interested in going with them but shopping the book around. Knowing that the other publisher would hire her full time if she brought Andrew on board. Nora knows this is a slippery slope to navigate. What will she do when her boss asks how things are going? Can Nora continue to lie or will all her lies catch up with her?
I definitely wouldn't say this was a romance book because there really wasn't much romance more of a love interest. I wish that would have been explored more. I loved that little glimpses of Andrew we did get. I guess I went in thinking this would be about falling in love with an author.
I really enjoyed reading this. It was a pretty quick and easy read. As a book lover, this was the first book I read that involved a publishing house. If you know of any books that take place involving a publishing house please let me know.
I definitely would read future books by Shauna.