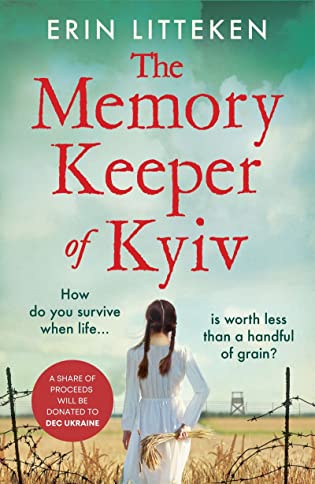 The Memory Keeper of Kyiv
by Erin Litteken
Published by
Boldwood Books on May 16, 2022
Pages:
373
Goodreads
Perfect for fans of The Tattooist of Auschwitz and The Beekeeper of Aleppo.
In the 1930s, Stalin's activists marched through the Soviet Union, espousing the greatness of collective farming. It was the first step in creating a man-made famine that, in Ukraine, stole almost 4 million lives. Inspired by the history the world forgot, and the Russian government denies, Erin Litteken reimagines their story.
In 1929, Katya is 16 years old, surrounded by family and in love with the boy next door. When Stalin's activists arrive in her village, it's just a few, a little pressure to join the collective. But soon neighbors disappear, those who speak out are never seen again and every new day is uncertain.
Resistance has a price, and as desperate hunger grips the countryside, survival seems more a dream than a possibility. But, even in the darkest times, love beckons.
Seventy years later, a young widow discovers her grandmother's journal, one that will reveal the long-buried secrets of her family's haunted past.
This is a story of the resilience of the human spirit, the love that sees us through our darkest hours and the true horror of what happened during the Holodomor.
"I never imagined the release of my novel on a past oppression of the Ukrainian people would coincide with such a parallel tragedy." Erin Litteken
A share of proceeds will be donated to DEC's Ukraine Humanitarian Appeal.
May we never forget, lest history repeat itself.


Before I begin my review I quickly have to thank Xpresso Book Tours for providing me with an ebook for my review today.
The Memory Keeper of Kyiv is told in dual perspectives (Katya and Cassie) and dual timelines (1930's/Ukraine and 2004/USA). This is historical fiction based on real-life events.
I have to start off by saying that The Memory Keeper of Kyiv had me instantly hooked from the very beginning. I had a hard time putting it down and In a way, I didn't want to stop reading. This is such a powerful and emotional read. It was truly heartbreaking. My heart went out to these Ukrainian people who were just trying to live their lives and to see a leader of another country take that all away from them. It's really sad and heartbreaking to see that history is repeating itself again, Russia is doing it all over again. Why is there so much hate in the world?
Something I learned from reading this was all about the Holodomor. This was an absolutely horrifying time in history that I have to say I never learned about in school. This was a manmade famine that Stalin ordered and he basically said if you don't join the collective farms you will pay the price. If you failed to join you were either killed or taken away. Stalin took everything away from Ukraine and left them to starve to death. It's estimated that over 10 million lives were lost during this time.
The book's main characters are Cassie and her bobby (grandmother). Cassie is still struggling with the loss of her husband who died in a car accident. Cassie is still grieving and even though everything around her is in chaos she is staying strong for her daughter, Birdie who hasn't spoken since that day. Cassie tries everything to encourage her daughter but to no avail.
Cassie's mom comes for an unexpected visit to let Cassie know that Bobby is in the hospital and isn't doing so well. She hopes that Cassie will pack up and move back home to help her out. Unsure at first, Cassie decides to move back to help out. Little does Cassie know how bad the situation really is. Bobby is having almost dementia-like flashbacks to when she was a young adult in Ukraine growing up during the Holodomor. Cassie discovers notes written in Ukraine, a journal, and hidden food all over the house, and then she starts asking for Aline. The family has no idea what is truly happening or who Aline is because Bobby never spoke out about her life before moving to America with her husband. What will they do when they uncover the truths of Bobby's past? Can Cassie overcome her grief?
With the help of Nick, a neighbor who has taken it upon himself to keep an eye on Bobby and help her as much as he can, he begins to translate Bobby's journal. The journal documents Bobby's life (Katya) and the hardship she went through. It begins with Katya being a young girl with dreams of the future. Katya is with her family and sister Alina. She also mentions Pavlo and Kolya (brothers)  who are neighbors who eventually marry the girls. Life was not easy for them with so much loss. But somehow Katya survives and lives to tell her story. A story everyone must read about.
This is a debut novel that I highly recommend everyone to read. I will definitely read the author's second book when it is released.