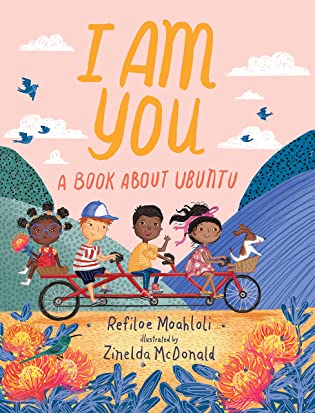 I Am You: A Book about Ubuntu
by Refiloe Moahloli, Zinelda McDonald
Published by
Amazon Crossing Kids on February 1, 2022
Pages:
32
Goodreads
We may be different, but our hearts beat the same.
In southern Africa, there is a belief called ubuntu—the idea that we are all connected. No matter where we're from or who we are, a person is a person through their connections to other people. With simple, lyrical text and charming artwork, this lively picture book first published in South Africa is the perfect introduction to the concept of ubuntu for young kids. A celebration of friendship and kindness, the book shows children the many ways that we are all one.


I quickly have to thank Amazon Crossing Kids for providing I Am You: A Book About Ubuntu for my review today. I just attended an online book event and this was provided to all attendees.
Before I begin my review I just quickly have to say how gorgeous this book is from the outside to the inside of the book. The cover is bright and colorful. Very eye-catching if this was sitting on a shelf and I would definitely pick it up to see what it is about. The illustrations by Zinelda McDonald are beautiful and they are bright and colorful. As you are reading the book you can't help but look at the illustrations. Zinelda is an award-winning South African illustrator who has illustrated numerous picture books.
Refiloe Moahloli is a best-selling South African picture book author and she writes about stories that bring out the best in the human spirit. She has several picture books out that I definitely want to check out. I highly recommend picking up this picture book to add to your child's collection.
The message behind this book is wonderful and kids (and some adults) should know that yes we look different, sound different, act different, eat different foods, live in different places etc we are all the same. We all have feelings no matter what we look like.