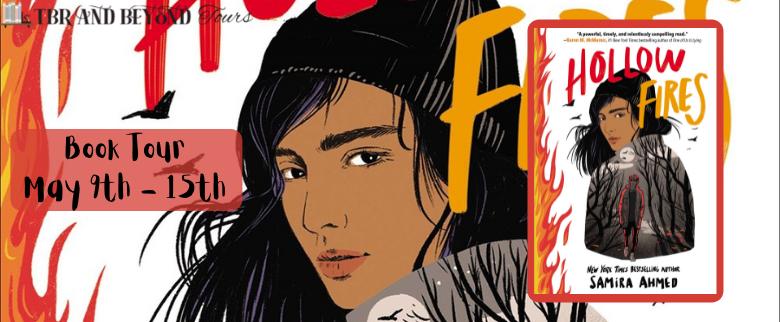 Book Info: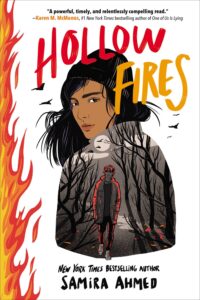 Hollow Fires by Samira Ahmed
Genre: Young Adult Mystery Thriller
Publishing Date: May 10, 2022
Synopsis:
A powerful, gripping YA novel about the insidious nature of racism, the terrible costs of unearthing hidden truths, and the undeniable power of hope, by New York Times bestselling author Samira Ahmed. Perfect for fans of Sadie and Dear Martin.
Safiya Mirza dreams of becoming a journalist. And one thing she's learned as editor of her school newspaper is that a journalist's job is to find the facts and not let personal biases affect the story. But all that changes the day she finds the body of a murdered boy.
Jawad Ali was fourteen years old when he built a cosplay jetpack that a teacher mistook for a bomb. A jetpack that got him arrested, labeled a terrorist—and eventually killed. But he's more than a dead body, and more than "Bomb Boy." He was a person with a life worth remembering.
Driven by Jawad's haunting voice guiding her throughout her investigation, Safiya seeks to tell the whole truth about the murdered boy and those who killed him because of their hate-based beliefs.
This gripping and powerful book uses an innovative format and lyrical prose to expose the evil that exists in front of us, and the silent complicity of the privileged who create alternative facts to bend the truth to their liking.

Before I begin my review I quickly have to thank TBR and Beyond Tours for allowing me to be a part of this book tour and for graciously providing me with an eGalley of the book to read for my review stop today.
This was another powerful read that brought out many feelings for me. There definitely needs to be more books like this out there. I highly recommend picking this up to read.
Once I started reading I could not put this down. I was instantly hooked. I should warn that there are quite a few trigger warnings in the book such as islamophobia, racism, bullying, anti-semitism and nazi ideologies, physical violence, kidnapping, and murder.
The book begins on June 2023 when Safiya discovers Jawad's body and then it works its way to the beginning of the story (2022) but it also jumps back to 2023.
Hollow Fires is told from two points of view, Safiya (a high school student) and Jawad (a 14-year-old 9th grader). Safiya wants to be a journalist when she is finished school. She works in the school newspaper at an elite prep school in Chicago which she attends on a scholarship. She is a Muslim with Indian immigrant parents. She is outspoken and is targeted for her opinions by not only students but by the administration at her school.
Jawad is a Muslim son of Iraqi immigrants. He attends a public school in Chicago. Jawad wants to be an inventor and this is how the story opens. Jawad loves to create things from recycled parts/pieces and he is thrilled with his latest creation of building a jet pack for his Halloween costume. He is so thrilled that he wears it to school the next day. The only thing his English teacher jumps to the conclusion is that it's a bomb and quickly phones the police without waiting for an explanation of what it is. Jawad is handcuffed and taken to the police station. Where once again no one wants to listen when he tried to tell them what it really is. Jawad is treated like a criminal and ends up with a new nickname of Bomb Boy. From there, things don't get better. Jawad was an innocent boy who was murdered for this misunderstanding.
Although Jawad and Safiya don't know each other she is compelled to bring justice to his family and for everyone to remember him. She knows there is more to this story than the press and police are saying. Can she solve this mystery and bring justice to Jawad?
One of the things I loved about Hollow Fires is that Samira tells it like it is in the book from the heated political climate that hit the US these past few years to alternate facts, facts, and the truth. Samira weaves real-life events into the story effortlessly.
Added to the storyline are text messages, articles, transcripts of voice mails, interviews, and news reports.
I know after reading this that I definitely want to pick up a finished copy to reread this. There are some aspects I want to see how it's done in the book. I know I will be annotating as I read this again.
Book Links:
GoodReads
Amazon
Barnes and Noble
Book Depository
Chapters Indigo
Indie Bound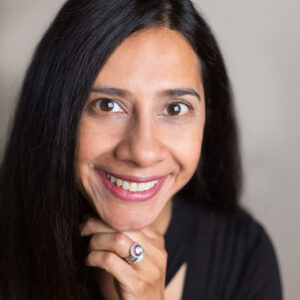 About the Author:
Samira Ahmed is the bestselling author of Love, Hate & Other Filters, Internment, Mad, Bad & Dangerous to Know, and  Amira & Hamza: The War to Save the Worlds, as well as a Ms. Marvel comic book mini-series.  Her poetry, essays, and short stories have appeared in numerous publications and anthologies including the New York Times, Take the Mic, Color Outside the Lines, Vampires Never Get Old and A Universe of Wishes.
She was born in Bombay, India, and grew up in Batavia, Illinois, in a house that smelled like fried onions, spices, and potpourri. A graduate of the University of Chicago, Samira has taught high school English in both the suburbs of Chicago and New York City, worked in education non-profits, and spent time on the road for political campaigns.
Samira currently lives in the Midwest. When she's not reading or writing, she can be found on her lifelong quest for the perfect pastry.
Author Links:
Website: https://samiraahmed.com/
Twitter: https://twitter.com/sam_aye_ahm
Instagram: https://www.instagram.com/sam_aye_ahm/
Goodreads: https://www.goodreads.com/author/show/8345582.Samira_Ahmed
Tour Schedule:
https://tbrandbeyondtours.com/2022/03/15/tour-schedule-hollow-fires-by-samira-ahmed/