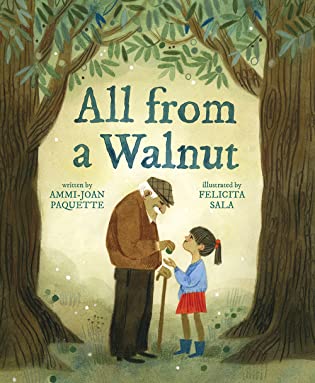 All from a Walnut
by Ammi-Joan Paquette, Felicita Sala
Published by
Abrams Books for Young Readers on March 22, 2022
Pages:
40
Goodreads
A moving, multigenerational story about love, family roots, and the cycle of lifeWhen Emilia finds a walnut one morning, Grandpa tells her the story behind it: of his journey across the ocean to a new home, with only one small bag and a nut in his pocket.

"I planted my little tree in good brown soil, so it would grow strong here forever."
"In this house? In this yard?"
"Shall we go see?"

Step by step, Grandpa teaches Emilia how to cultivate her own seed. But as her little nut grows, Grandpa begins to slow down—until one sad day, Emilia has to say goodbye. Emilia's sapling looks as droopy as she feels . . . but she knows just what to do.
From acclaimed author and illustrator Ammi-Joan Paquette and Felicita Sala, this tender story is a poignant reminder that the best things grow with time—and that even when they are no longer here, the ones we love are always a part of us.
I was able to have access to All From a Walnut as an eArc from Abrams through a book event that I attended recently.
One morning Emilia wakes up to find a walnut sitting on her bedside table and goes to find her mother and grandfather. Emilia knows her grandfater will have a story to tell her about the walnut and why she has gotten one.
The grandfather procceeds to tell Emilia that when he was a little boy, his family packed up most of their belongs and traveled from one continent to another. One of the things he took was a walnut from the tree outside his window. When he arrived at his new home he planted it. He always made sure to take care of it as they moved around. He had it planted in a pot until one day it was to big for the pot. This was how he met her grandmother. They planted this tree in the backyard of their home.
Emilia wanted to see the tree so her and her grandfather went out to see it. Emilia could see her grandfather was moving slower. Out in the backyard Emilia saw the tree in all its glory. Not to far from that tree was another tree. That was the one her mother planted when she was Emilia's age. Now its Emilia's turn to plant her tree.
Grnadfather taught Emilia everything she needed to know so that her tree would grown right along side of theirs.
As the story progresses along with Emilia's tree you can see her granfather getting slower and slower. Emilia knows what is about to happen. She would always remember her grandfather's journey and she knew they would always be a part of each other.
What a beautiful picture book to share with your family. The illustrations are beautiful.