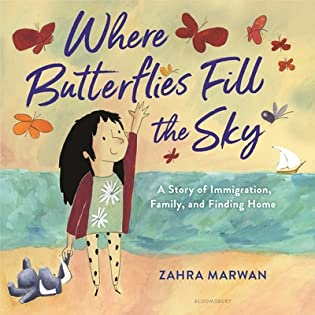 Where Butterflies Fill the Sky
by Zahra Marwan
Published by
Bloomsbury Children's Books on February 8, 2022
Pages:
48
Goodreads
An evocative picture book debut that tells the true story of the author's immigration from Kuwait to the United States.
Zahra lives in a beautiful place where the desert reaches all the way to the sea and one hundred butterflies always fill the sky. When Baba and Mama tell her that their family is no longer welcome here and they must leave, Zahra wonders if she will ever feel at home again--and what about the people she will leave behind? But when she and her family arrive in a new desert, she's surprised to find magic all around her. Home might not be as far away as she thought it would be.
With spare, moving text and vivid artwork, Zahra Marwan tells the true story of her and her family's immigration from Kuwait, where they were considered stateless, to New Mexico, where together they made a new home.
I quickly have to thank Bloomsbury Children Books for granting me early access to read and review this for my blog today.
This is a debut picture book with whimsical illustrations. I loved that the author also illustrated the book as well.
Where Butterflies Fill the Sky is about the author's immigration journey from Kuwait to the United States.
I have to say at first I was a little confused because there was no indication of what country they were referring to from where they were leaving and going to. It was only after reading it that the author discloses this information. Perhaps it was done for a purpose because so many people are forced to leave their countries.
Being forced to leave your home/family is not an easy thing to do and then you worry about what your new home will be like. Will it be like your old home? Will people be welcoming? Can you fit in?
I loved the question at the back of the book, Can you find home again? I think you can.