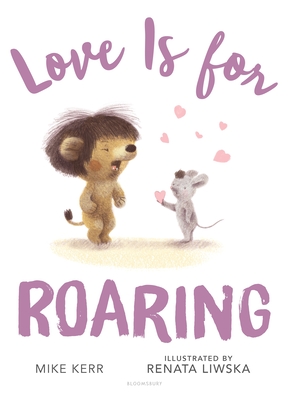 Love Is for Roaring
by Mike Kerr, Renata Liwska
Published by
Bloomsbury Children's Books on January 18, 2022
Pages:
32
Goodreads
Hugs and kisses and lovey-dovey stuff isn't for all of us! A not-too-sweet story about a fierce and grumpy lion who maybe does know what he loves after all.
Today the fierce, fearsome Lion is supposed to show his love. But that makes him grumpy.
"What do you love?" Mouse asks Lion.
Lion doesn't love lovey-dovey stuff.
Hugs? Kisses? NO WAY!
But Mouse wonders, doesn't Lion love . . .
to growl? Love to roar?
Hmm, maybe Lion likes that.
Doesn't he love to run? Love to chase?
Actually, maybe Lion loves that.
And maybe he DOES love to share his love.
With a simple, humorous text and playful illustrations from New York Times bestselling Renata Liwska, this story is a charming, unconventional exploration of the many ways there are to show our love!
I quickly have to thank Bloomsbury Children Books for granting me early access to this beautiful children's picture book.
It's been a long time since I have purchased picture books but after reading this one I definitely want to pick up a finished copy of this. The illustrations are breathtaking. Soft in tone.
One day in school the class is assigned a homework project that requires you to show your love. This upsets Lion because he wants nothing to do with anything related to love. His friend the mouse decides to take it upon himself to find out what the Lion really loves and in the end, the Lion does realize the things he loves and is no longer afraid to show them.
This is such a sweet book that yes it's okay to show the people we love them even if we aren't lovey dovey.