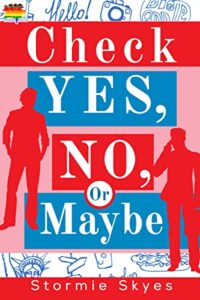 Check Yes, No, or Maybe
Series:
Meeting His Match Romance #1
by Stormie Skyes
Published by
4 Horsemen Publications on January 15, 2022
Pages:
247
Crappy job. Yes.
Take back an annoying ex. Definitely no.
Hit on the sexy new firm partner looking him over…maybe?
For Aaron Cambrian, life is lived by checklists. No matter how promising, everything - jobs, potential partners, cars, drinks, food, etc. - needs to meet all his criteria or he walks away.
Everything changes one night at the cocktail bar when his best friend challenges Aaron to abandon his list and ask the first hot guy who catches his interest if he can buy him a drink.
Thanks to his old nemesis alcohol, Aaron takes the dare. The next thing he knows, he finds himself in the condo of an absolute stranger! It was supposed to be one drink. One accidental kiss… Good thing he'll never see the guy again.
Wrong! When the sexy new partner at Kimball & Marks law firm turns out to be the hot stranger, Aaron is faced with a life-changing decision: keep the checklist or lose the hottest, most frustrating man who ever stole his heart.
I quickly have to thank Xpresso Tours for allowing me to be a part of this book blitz and for sending an eGalley of Check Yes, No, or Maybe for me to read and review today.
This is the first book in the Meeting His Match series. Not quite sure how many will be in this series and if the characters in this book will move along with the series or each book will focus on other characters.
This was a pretty quick read for me that I managed to read in a day. I enjoyed reading it. It was nice to discover a new author and I think I would definitely continue to read the series as they came out.
Our main character is Aaron, during the day he works in a law firm as a filing clerk, and on the side, he is a culinary student. When he is not doing that he is with his best friend Elliott and living his life through a checklist. Everything he comes across in life has to fit within his checklist and if he doesn't he walks away. Can Aaron continue living his life by a checklist?
The book opens up with Aaron waking up in a strange bed, hungover and he's not quite sure how he ended up there or who this mysterious guy in the shower is because he doesn't hang around long enough to find out. Struggling to figure out what happens he calls his best friend Elliott to piece it all together because he remembers they were together at their favorite bar.
Things that night start out good until Aaron's ex walks into the bar. From the sounds of it, this guy sounded like a douche who was a bully and a bit abusive in my opinion. I could be wrong but the way Aaron spoke about him I got that vibe. This is where the mysterious shower guy comes in. Elliott has convinced Aaron to dumb his list and just approach the guy. What could possibly come of this right? Well throw in some alcohol for liquid courage and you know where this is going.
Thinking that it was a one-time event Aaron goes about his daily life until the day mysterious shower guy, Maverick turns out to be a new partner in the firm Aaron works out. What will Aaron do? Will Aaron allow this to develop into something more or will his checklist get in the way?
I was a little curious about Aaron's father, a professional chef who sounded like a Gordon Ramsey type of guy. He seemed like he was an absentee dad and was always getting into trouble because Aaron's sister Rebecca who is a lawyer has the media signing contracts about not publishing information on the family. Aaron is very tight-lipped about his family. Is it because the father is a celebrity or is it because the father is always in trouble?
Even the characters in the book were perfect and they all seem to fit in perfectly. I kept hoping that Maverick would finally get through to Aaron even though Aaron could be his own worst enemy at times. I am curious to see if there will be more Aaron and Maverick in future books because it just seemed to end abruptly.