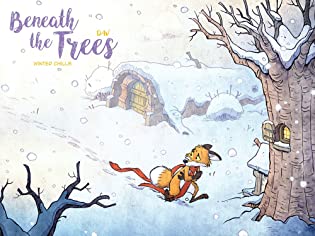 Beneath the Trees: Winter Chills
by Dav
Published by
Magnetic Press on December 14, 2021
Pages:
32
Goodreads
Winter is here, and snow covers the woods like a cold blanket. Mr. Fox has his enormous scarf to keep him warm, but it is almost TOO big -- he can't help but trip over it and get caught on tree branches all the time. But as embarrassing as that is, it is even more humiliating when trying to catch the eye of a beautiful lady!
This new series paints a tender and colorful portrait of everyday Life, showing that behind every flaw or weakness can lie charm and strength. Readers will recognize their own neighbors, friends, and family members in the endearing animal characters within this forest community. In this second volume, a self-assured fox tries to stay warm with his ridiculously log scarf, but winds up having to deal with the embarrassment of getting caught up in everything… especially embarrassing in front of the pretty lady fox he's trying to impress! A warm-hearted and simple romance tale suitable for all ages.
The stories in this four-book series take place in the same forest over the course of four seasons. Each can be read independently, exploring the complexity and richness of relationships with family, friends, and loved ones. As both writer and illustrator, the author doesn't rely on text to convey emotions, oscillating between a clever dose of dialogue and wordless passages to makes these stories accessible to young readers starting as young as 5 years old.
Presenting a graphic universe somewhere between Michel Plessix's adaptations of THE WIND IN THE WILLOWS and the cartoons of Walt Disney (in particular those created by Don Bluth, such as THE RESCUERS and ROBIN HOOD), Dav gently conveys each season through a changing palette of colors and rounded designs.
Before I begin my review I quickly have to thank Diamond Book Distributors for granting me access to an eGalley of this to read today.
I absolutely loved this graphic novel. It was so cute that I am even thinking of picking up a copy when it comes out.
Not only did the author write this book but they also illustrated it. The illustrations are beautiful. From the snowy background to the adorable characters in the book, you can't help but want to take it all in. The color of the characters popped from the pages.
It was funny and so cute at the same time.
Mr. Fox who is our main character is struggling with his big red scarf and is frustrated with it. Other woodland animals offer to help him with it but he turns them down. Then he spots a cute Fox walking. Sadly things don't go smoothly for him because the next thing he knows he has fallen and is embarrassed. The fox rushes over to see if he is okay and he plays it off but just as quick as he brushes it off he embarrasses himself again. The other fox thinks it's funny but this only frustrated the fox more and he storms off.
Will the big red scarf bring these two foxes together? You will just have to pick this up to find out.
I should mention that this is a new series and the previous book is called Beneath The Trees: The Autumn Of Mister Grumpf. There will be four books in this series. They are all set in this same four and it will be over the course of the four seasons. They all can be read as standalone's.
I definitely think I will be purchasing these as they come out.