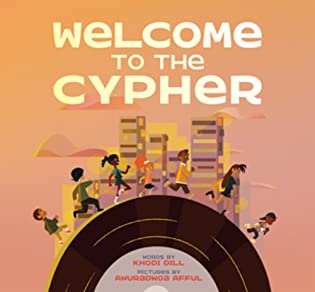 Welcome to the Cypher
by Awuradwoa Afful, Khodi Dill
Published by
Annick Press on October 12, 2021
Pages:
32
Goodreads
Words burn bright in this joyful celebration of rap, creativity, and self-expression.
"Welcome to the cypher!
Now huddle up nice and snug.
You feel that circle around you?
Well, that's a hip hop hug!"
Starting with beatboxes and fingersnaps, an exuberant narrator introduces kids in his community to the powerful possibilities of rap, from turning "a simple phrase/into imagery that soars" to proclaiming, "this is a voice that represents me!" As Khodi Dill's rhymes heat up, the diverse crew of kids—illustrated in Awuradwoa Afful's bold, energetic style—gain self-confidence and a sense of freedom in this wonderful picture book debut that is perfect for reading aloud.
Before I begin my review I quickly have to thank Annick Press for sending me a copy of the book. I recently took part in the Fall 2021 Indie Book Social and was able to select this book to read and review.
As you know I always love supporting Canadian talent on my blog and not only is Khondi Dill the author Canadian but so is the illustrator Awuradwoa Afful is as well.
The illustrations were bright and colorful and went with the text perfectly. Welcome to Cypher is a debut children's book that was just recently released.
The narrator invites us the reader to join in with a group of kids as he explains what rap is and how to do it. The kids in the story then begin to experiment with words, beatboxing, and rhyming. They learn that words matter and that it's okay to speak our minds. Having to speak your mind can be scary and intimidating but the kids do it anyway.
You definitely need to read this aloud as I found out. It's a lot of fun especially if you are reading it like a rap. I think kids will enjoy reading this or having it read to them.