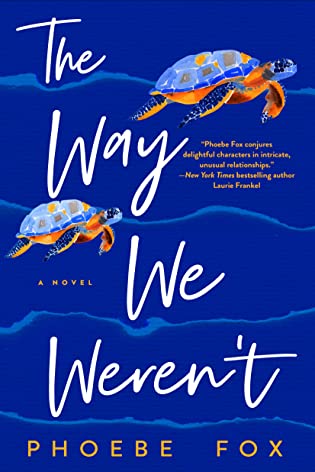 The Way We Weren't
by Phoebe Fox
Published by
Berkley Books on November 9, 2021
Pages:
384
Goodreads
An unlikely friendship between a septuagenarian and a younger woman becomes a story of broken trust, lost love, and the unexpected blooming of hope against the longest odds.
You trying to kill yourself, or are you just stupid?
Marcie Malone didn't think she was either, but when she drives from Georgia to the southwestern shore of Florida without a plan and wakes up in a stranger's home, she doesn't seem to know anymore. Despondent and heartbroken over an unexpected loss and the man she thought she could count on, Marcie leaves him behind, along with her job and her whole life, and finds she has nowhere to go.
Herman Flint has seen just about everything in his seventy years living in a fading, blue-collar Florida town, but the body collapsed on the beach outside his window is something new. The woman is clearly in some kind of trouble and Flint wants no part of it--he's learned to live on his own just fine, without the hassle of worrying about others. But against his better judgment he takes Marcie in and lets her stay until she's on her feet on the condition she keeps out of his way.
As the unlikely pair slowly copes with the damages life has wrought, Marcie and Flint have to decide whether to face up to the past they're each running from, and find a way to move forward with the people they care about most.
Before I begin my review I quickly want to thank Penguin Random House USA for sending me a eGalley of the book to read for my tour stop today.
How pretty is this cover? I think this is another book that I will have to pick up a physical copy of.
I have to say that I thoroughly enjoyed this. It's been a few days since reading this and I am still sitting here thinking about the book. It's been a while since I have felt this way about a book. I went through so many emotions with this.
Marcie has been with her high school sweetheart, Will for 20+ years. They got married in their teens when Marcie revealed she was pregnant. Sadly it ended in a miscarriage. Now as they are approaching a certain time in their lives Marcie discovers she is pregnant once again and needless to say Will is not very happy about it like Marcie thought he would be. Sadly that pregnancy ends in a miscarriage and I think if Will could jump for joy he would have. He has done a crappy job of consoling Marcie. Having to deal with the miscarriage, the lack of support from Will, and basically, people who can't do their jobs, Marci throws the towel in and just high-tails it out of there. Marcie has just done something that I am sure we all have thought about one time or another and that is just deciding to say screw it with my life. She walks away or in this case, drives away. She has not thought this through so she has no plan whatsoever. She drives until she gets to the beach.
Herman Flint, otherwise known as Flint sees Marcie on the beach in front of his house asleep in the sand. Flint is a grumpy old man who wants to be left alone. I was surprised that he ended up caring so much about Marcie. From the moment of making sure she was okay on the beach, to bringing her into his home and even giving her a spare key so that she could come and go as she pleases.
I loved that as the story was progressing we got to learn a lot more about Marcie and Flint. I loved that these two ended up forming the most unlikely friendship. Goes to prove that I think things happen for a reason. Who they were just added more to the story. Nothing was left unturned.
I should also mention that a little side story in the book was the turtle and the turtle's eggs that were on the beach. I loved how Flint who was watching out for this all the time taught Marie about them. It was an interesting side story. I think the story of how turtles lay their eggs on the beach and when they are hatched how they know exactly where to go is amazing. Nature is beautiful and remarkable.
I highly recommend this book.