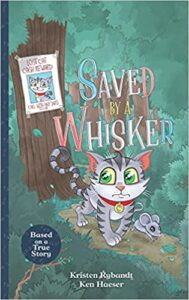 I believe this is Kristen Rybandt's debut children's book. I was able to pick up and advance eGalley when I attended SLJ Teen Live Event back in August.
This is a true story of a cat (Cosmo) who was lost from his family and the journey it took for them to be reunited with the help of SavedWhiskers Rescue Organization. Inc. SWRO is dedicated to saving the lives of countless felines by rescuing them from abused homes/owners, abandoned, and homelessness. They are a volunteer organization that provides veterinary care and shelter until they can find forever homes for them.
The illustrations are bright and colorful. They definitely suit the storyline. I think any child would love to read this or have it read to them.
It's a quick and fun read.
The story begins with the family packing up and moving. You don't know where they are moving to as it's only really disclosed at the end of the story. For Cosmo wherever they are going it's really far. He is content in his carrier until he needs to use the bathroom and that is when the story really begins.
A cat's instinct when it's scared is to bolt and that's exactly what Cosmo does. He runs into the woods away from his family. He misses his family but it's there that he meets the other stray cats who are willing to help him out so that he can get back home. The strays take him under their paw to show him the way. I was happy to see that all the strays Cosmo encountered were willing to help him out, show him where to get food that the volunteers left out for them, and which ones to avoid. But the cutest thing was Tim the mouse who thought Cosmo wanted to have him for a meal and Cosmo thought the other cats were pranking him about it.
This was definitely a cute story.