Fate: Return to Avalon: Takeuchi Takashi Art Works
by Takeuchi Takashi, Type-Moon
Goodreads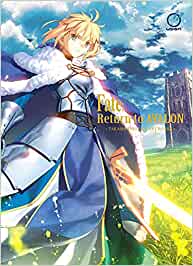 I was lucky enough to get an egalley of Fate: Return to Avalon: Takechi Takashi Art Works from SLJ Teen Live event this past summer. When I saw this initially I thought it was a graphic novel because I am very new to the graphic novel genre. It was only when I went looking into this that I discovered that this is celebrating 15 years of Takeuchi Takashi"s artwork. Fate: Return to Avalon is a collection of illustrations from across the Fate series from the original Fate/stay night up to Fate/Grand Order. It also features everything from game box art, to DVD/Blu-ray covers, to rare promo illustrations.
I definitely need to see if I can get my hands on those graphic novels because the illustrations are stunning. Although not quite sure where I will be able to find them as they seem to be out of stock or not available. If you know where please leave it in the comments so I can check it out. I definitely want to check this out and hoping my local library might have this in rotation soon or when it's in store.
The book is broken down into various chapters titled Lobby, Spring -Flower, Summer-Sky, Interlude-Fate/Grand Order, Autumn-Colors, Winter-Night, and finally The Turn of the Seasons-Britain Travel Diary. Also included is an Index at the back of the book that has the date and what the illustration is in reference to.
I guess this would be highly recommended for fans of the Fate series.
I really enjoyed going through this egally and looking at all the illustrations. So beautiful.