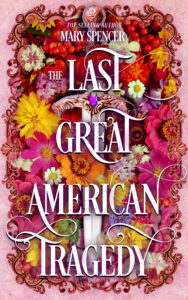 Title: The Last Great American Tragedy
Author: Mary Spencer
Pub Date: February 2022
Publisher: Cayelle Publishing/Haze
About the book:
Cordelia, an esteemed author, meets her other half under the most unusual circumstances. Grieving her mother's death, she moves to the sleepy little city of Asheville to end her life. After a near successful drowning attempt, Doctor Locke saves her, thus starting a love affair that rivals the gods.
Both broken and troubled, the two hearts dance around each other in a shifting battle of willpower. But as Cordelia starts exhibiting the telltale signs of a body fading away, will the good doctor be able to keep her soul attached to this mortal coil, or will she force him to walk his life alone, never to be complete?

Thank you Love Books Tours for allowing me to be a part of the cover reveal for this gorgeous book.
Congratulations Mary Spencer on your upcoming book.