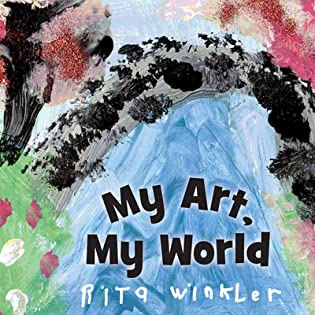 My Art, My World
by Helen Winkler, Mark Winkler, Rita Winkler
Published by
Second Story Press on October 19, 2021
Goodreads
Rita Winkler is a young woman living with Down syndrome. In My Art, My World she shows us the world as she sees it: a place full of joy, color, and the delight of life with her family and friends.
Approaching her daily life with enthusiasm and a dry sense of humor, Rita rides public transit to her job working at a university coffee shop. She takes yoga and folkdance classes and enjoys art, drama, and music at a day program. When it's time to celebrate holidays and the birthdays of those she loves, Rita likes to mark the occasions with paintings and handmade cards.
Today I wanted to review and spotlight My Art, My World by Rita Winkler because it's such a beautiful special picture book that I think everyone should pick up and read.
My Art, My World features all of Rita's artwork and photos. Rita loves to make art and each art piece or photo accompanies what she has written. Reading this picture book you can see that Rita keeps herself busy with not only her artwork but she has job working in a coffee shop, she hangs out with her friends, does dance classes, and yoga.
Rita is a young woman living with Down Syndrome and My Art, My World is all about seeing the world as she does. It's a place full of joy, color, and delight when you spend it with friends and family.
I really enjoyed reading Rita's words and looking over her artwork. Seeing all the hard work that she puts into it. This is truly a special picture book.
Thanks, Second Story Press for allowing me to read and review this.