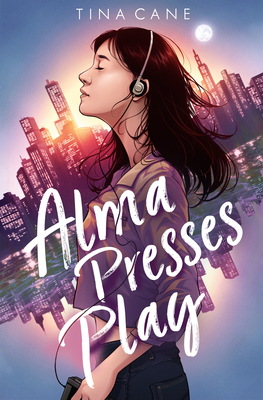 Alma Presses Play
by Tina Cane
Published by
Make Me a World on September 14, 2021
Pages:
336
Goodreads
A lyrical novel-in-verse that takes us through the journey of coming of age in New York during the 80s.
Alma's life is a series of halfways: She's half-Chinese, half-Jewish; her parents spend half the time fighting, and the other half silent; and she's halfway through becoming a woman. But as long as she can listen to her Walkman, hang out with her friends on the stoops of the Village, and ride her bike around the streets of New York, it feels like everything will be all right. Then comes the year when everything changes, and her life is overtaken by constant endings: friends move away, romances bloom and wither, her parents divorce and--just like that--her life as she knew it is over. In this world of confusing beginnings, middles, and endings, is Alma ready to press play on the soundtrack of her life?
I quickly have to thank Make Me A World for providing an eGalley of Alma Presses Play for me to read and review today.
I definitely want to check this out when it comes out to see how the actual book is written. I read an advance copy digitally so I know the finished copy won't be like this. I will definitely be picking up a finished copy when it comes out because I plan on annotating it.
Alma Presses Play is told in unpunctuated poems, some begin with a song lyric, some begin with a word and its definition and some are in the form of a letter or lists.  I don't read a lot of books written in verse and when I do I really enjoy reading them.  This wasn't a fast read for me because I was reading it off my computer and eye strain was real for me. I don't regret that at all. It was worth it.
Our main character is Alma (13 years old) and she is a half-Chinese, half-Jewish girl growing up in New York City in the '80s. There was so much 80s reference that it definitely brought me back to my youth with her walkman and the music she was listening to. Every time she mentioned a song I admit I went to youtube to hear it again. Brought back so many fun memories for me. Yes, I even had a walkman with cassettes.
Alma is your typical 13/14-year-old girl trying to navigate life as best as she can while dealing with family problems with her parents possibly divorcing, friends, and puberty.
The one thing I did notice and not sure if girls are like that today but Alma was obsessed with her period and telling everyone and practically anyone. I know when I was her age I never told anyone and none of my friends really talked about it. I do know one thing girls back then actually were obsessed with and gushed about was their first kiss. I still remember mine and the funny fact is I am still friends with him today.
I would definitely read more of Tina Cane's book in the future.