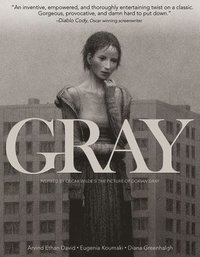 Gray
by Arvind Ethan David, Diana Greenhalgh, Eugenia Koumaki, Joana LaFuente
Published by
Clover Press on July 13, 2021
Pages:
124
Goodreads
A contemporary reimaging of the classic Oscar Wilde novel, "The Picture of Dorian Gray," Gray is a supernatural revenge thriller about an alluring but violent woman, Dorian Gray, who seeks vengeance on a cabal of powerful men who wronged her years ago; and of the straight-laced African American detective with a past of his own, who is tasked with stopping her.
The Picture of Dorian Gray, Oscar Wilde's only novel and one of the classics of gothic literature, is the tale of the most beautiful man of his age, who sells his soul and his conscience in exchange for eternal youth, beauty and power - and who spends his life murdering, raping and corrupting. All the time in his attic, his picture degrades and rots.
GRAY takes that basic idea but flips its moral framework and gender archetypes: our DORIAN GRAY is a Millennial social media princess who drifts through the coolest cliques of NYC, breaking hearts and turning heads wherever she goes. But Dorian has secrets. For one thing, she's a violent criminal. For another, she's an immortal creature of magic, who commits violent burglaries and assaults some of New York's most powerful men.
30 years ago, whilst an innocent student, Dorian was sexually assaulted by these men. In that moment that she became something both more and less than human. 30 years later, but not a day older, she's ready for her revenge. Then Dorian meets Detective HANK WUTAN, the African-American NYPD detective assigned to stop these crimes, struggling with his own loyalties as a Black cop in the era of Defund the Police. Despite the fact that Dorian is his suspect number one, and he is effectively working for her abusers, they fall for each other, hard.
GRAY takes Wilde's classic novel and reinvents it as a tale of cathartic revenge for the #MeToo and Black Lives Matter era, a violent fantasy about how powerful, super-rich white men don't always win, how the powerless can find justice, and about how a murderous demon and a law-abiding detective can be soul mates.
Recently I have gotten into reading graphic novels as they tend to be quick and fun reads for me. I have read a vast range lately as you will gradually see in my upcoming reviews.
I picked up Gray, this graphic novel is inspired by Oscar Wilde's The Picture of Dorian Gray which I have to admit that I have never read but after reading this twist on it I might have to pick it up to read soon. Gray is a modern-day retelling with modern themes.
I should point out that there is numerous trigger warnings (sexual assault and systemic racism) in this graphic novel.
I was lucky enough to pick this egalley from SLJTeen Live event that I recently took part in.
This is the first graphic novel in perhaps a series. The second graphic novel will be released in the Fall. I am definitely excited to continue reading this when they become available. I might have to check to see if my library has this so I can reread it in a book format.
I have been interested in retellings lately and started to look up ones that I want to start reading. So when this one was available I decided to give it a try. I was intrigued by the cover and went in expecting it to look like that but was surprised that the illustrations were more colorful.
I really did enjoy this (read this in one sitting) and was surprised by the cliffhanger at the end. I do have to admit in the beginning I was a tad confused by the storyline and not knowing where it was going but it quickly came together. To sum it up it's about a group of women who want revenge on a group of white older men who have done horrible things and are never brought to justice or punished for their crimes. Will they be able to get away with it or will they be the ones who have to pay for their mistakes?