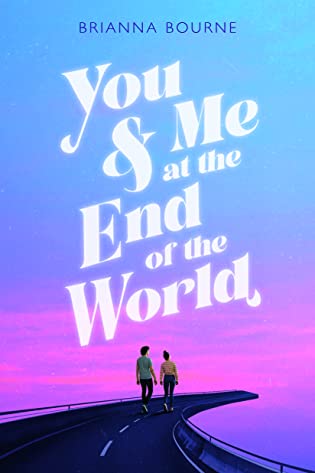 You and Me at the End of the World
by Brianna Bourne
Published by
Scholastic Press on July 20, 2021
Pages:
368
Goodreads
This is no ordinary apocalypse...
Hannah Ashton wakes up to silence. The entire city around her is empty, except for one other person: Leo Sterling. Leo might be hottest boy ever (and not just because he's the only one left), but he's also too charming, too selfish, and too devastating for his own good, let alone Hannah's.
Stuck with only each other, they explore a world with no parents, no friends, and no school and realize that they can be themselves instead of playing the parts everyone expects of them. Hannah doesn't have to be just an overachieving, music-box-perfect ballerina, and Leo can be more than a slacker, 80s-glam-metal-obsessed guitarist. Leo is a burst of honesty and fun that draws Hannah out, and Hannah's got Leo thinking about someone other than himself for the first time.
Together, they search for answers amid crushing isolation, but while their empty world may appear harmless . . . it's not. Because nothing is quite as it seems, and if Hannah and Leo don't figure out what's going on, they might just be torn apart forever.
Before I begin my review I just quickly want to say thank you to Scholastic/Scholastic Press for sending me an arc of You & Me at the End of the World by Brianna Bourne.
This is Brianna's debut young adult novel.
If Brianna's upcoming novel (Summer of 2022) is anything like this I am sure I am going to love it.
I have to say that I absolutely loved reading You & Me at the End of the World. It's been a few days since reading it and I am still thinking about the book. I managed to read this in a day because I just couldn't put the book down and every time I tried I was lured back in. Which is a good thing. If you like ya apocalypse books then I highly recommend this one. I am sure you will enjoy it.
When I started reading I have to admit given the current situation in the world thinking about an apocalypse is really not hard to do. Can you imagine waking up one day and realizing that you might be the only person alive in the world? What would you do? Could you handle it? I honestly don't know if I could cope with being the only person in the world. A few days or even a week might be okay but then after that, I think I would start to struggle.
Could you imagine having free reins of a city and being able to do what you wanted? Where would you go and what would you do?
The book opens up with high school student and ballet dancer Hannah, who basically lives her life with a plan and going outside that plan knows that bad things will happen when you stray, working herself up to go into her friend's family second-hand bookstore to grab some books. The reason why she has to work up to leaving her car to go into the bookstore is that she hasn't seen another living soul in five days.
The only place besides her house and ballet that she feels comfortable is the bookstore. It's there in the bookstore that she hears music. At first, she thinks she is hearing things but as the music continues she realizes it's coming from next door. Climbing up on the counter to look through the vents of next door she sees someone. At first, Hannah is freaked out but so realizes she knows this person. It's a classmate named Leo. He is in the music store playing the guitars.
They are both overjoyed to discover they aren't alone anymore and decide to jump in Leo's car and explore Houston. The only thing is this goes against Hannah's plans but she throws caution to the air and goes with it but before long things start to happen that freak her out and all she wants to do is go home. Shadows are lurking in the corners, the weather has turned unpredictable, etc. Will Hannah and Leo be able to survive all that is thrown at them?
When I started the book I wasn't sure what to think and actually thought it was just that Hannah woke up one day to discover she was alone in the world and she had no clue what had happened. Yes, she was coming up with theories as to what happened and I would have done the same thing. Then she finds Leo and I am like okay this makes sense and they both will figure out what happened. At this point, I wasn't really sure what was going on until the last quarter of the book. That last quarter of the book hit me and I was like ya that makes so much sense now. It was only after I read that part that things started popping up in my head with clues. Why didn't I see them sooner?
I also loved the slow-burn romance between Hannah and Leo. Leo is not Hannah's typical guy she dates and for Leo, he doesn't date girls he prefers to keep things very casual. Can Hannah and Leo see each other as anything more or will this be a friendship?
I was definitely on the edge of my seat most times throughout the book.
Brianna did a fantastic job with the world-building in the book.