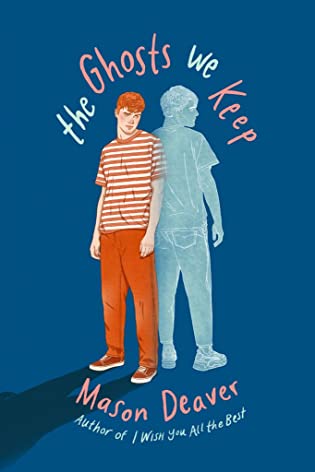 The Ghosts We Keep
by Mason Deaver
Published by
PUSH on June 1, 2021
Pages:
336
Goodreads
Perfect for fans of Adam Silvera and Becky Albertalli, this book will rip your heart out before showing you how to heal from tragedy and celebrate life in the process.
When Liam Cooper's older brother Ethan is killed in a hit-and-run, Liam has to not only learn to face the world without one of the people he loved the most, but also face the fading relationship with his two best friends.
Feeling more alone and isolated than ever, Liam finds themself sharing time with Marcus, Ethan's best friend, and through Marcus, Liam finds the one person that seems to know exactly what they're going through, for the better, and the worse.
This book is about grief. But it's also about why we live. Why we have to keep moving on, and why we should.
Before I begin my review I just quickly want to say thank you to Scholastic/PUSH for sending me an arc of The Ghosts We Keep by Mason Deaver to read.
This is Mason's second stand-alone book. You will recall their debut was I Wish You All the Best. Sadly, I have yet to read it but I do have it on my wishlist and I am hoping to pick it up later this week providing my local Chapters have a copy in stock otherwise I will need to order it online. If I Wish You All the Best is anything like The Ghosts We Keep I am sure I will love it. Mason is definitely a new favorite author for me.
Please note that there are a few trigger warnings to this book such as grief and depression.
Our main character is Liam and it's the summer after their brother, Ethan death. He was killed in a hit-and-run accident. The storyline follows before and after that event. It's easy to distinguish that because each chapter is dated and there is a before and after included. The flow between the two is perfect. It all blends in. This was a great way to tell the story because once you read it you will completely understand why they did it this way.
Liam is completely heartbroken and struggling to come to terms with it and wondering how they can move on from this. Liam feels isolated from their friends, Vanessa & Joel, and their parents. They can sense the drifting in their friendship because Vanessa and Joel are dating and are beginning to do things together and when they do plan to do something as a group the couple bail. Liam takes it in the beginning but soon things come to a head and Liam explodes. Will this friendship be able to be salvaged?
At first, I was happy that Liam had Vanessa and Joel because I thought they had more of a bond but as the story progressed you can see that they were distancing themselves from Liam. Was it because they couldn't understand what Liam was going through or was it because Liam was distant? I completely understand how frustrating it is when you have friends and you make plans and then suddenly they are ditching you or completely forgetting you had plans together. This is where my issue with Vanessa and Liam comes in. You don't make plans to hang out and then completely forget to let your friend know that plans have changed.
Feeling like they have no one to turn to Liam reaches out to Ethan's best friend, Marcus. They both are struggling with the loss. Will they be able to form a bond and help each other go through the process? What will Liam do when they discover things about Ethan they never knew before?
This is where I am on the fence should Liam have reached out to Marcus? I don't know I guess to Liam it made sense because if anyone knew Ethan it would be Marcus. I very well might have done the same thing had I been in that position. I guess sometimes you just need to be with someone who understands what your going through.
This was a roller coaster of emotions for me. I went through every emotion with this book. Its been a long time since I read something like this.
I was instantly hooked and managed to read this pretty much in a day.