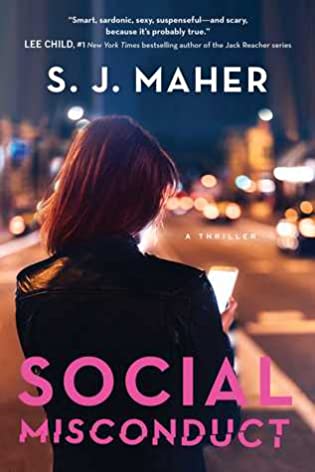 Social Misconduct
by S.J. Maher
Published by
Simon Schuster on April 23, 2019
Pages:
336
Goodreads
A timely and shocking thriller about a young woman who is the target of a social-media smear campaign.
"Smart, sardonic, sexy, suspenseful—and scary, because it's probably true." —Lee Child, #1 New York Times bestselling author of the Jack Reacher series
Her perfect job becomes the perfect nightmare when a stalker hacks her phone.
Candace Walker is thrilled when she lands a new job at a hip Manhattan tech company and gets a brand-new iPhone. She's more than ready to move on from creating clickbait ads for weight-loss pills and herbal erection boosters, and is determined to dazzle the startup team she joins.
A week later, though, everything is at risk: Candace is the target of a mysterious harasser and an online smear campaign. She tosses her new phone into the Hudson River, begins hiding out in her sister's storage locker in New Jersey, and can't think of a single person she can trust. But Candace hasn't come this far—and gone to such lengths—to submit to what is happening without a fight.
Have you ever read a book and as you were reading it you were thinking what the heck am I reading? Well, that was me with Social Misconduct by Canadian author S.J. Maher (aka Stephen Maher). This is his third stand-alone book. When I say what the heck am I reading, I don't mean that in a bad way but in a sitting on the edge of your seat kind of way.
I bought this when it came out in 2019 and sadly it's been sitting on my shelf until earlier this week when I was looking for a quick thriller kind of read. This was definitely a quick read that I pretty much devoured in an afternoon. Once I started I could not put it down. I was hooked right from the get-go.
I do have to say before I begin my review that this is very realistic and made me really question what I post, share, save on my phone and my passwords. I think we take technology for granted and not realize what our actions can do. Seriously anyone can hack into everything and what you put out there is out there forever.
Our main character is Candace and she just landed a promotion within the company she works for. One of the perks of the new job is getting a new phone. Roughly a week later Candace starts to receive weird messages and soon realizes her phone has been hacked. The person behind it is harassing her. This person has posted something that can never be taken back because just as quickly as it's posted it's been reshared. Who is behind all this and what do they want with Candace?
The storyline is told in the present day and the past. It's not confusing at all and you definitely need that for this storyline. I will admit as I was reading it I was beginning to believe the people she was thinking were doing it was behind it all. Just when one person is named you could put the pieces together only to realize it's not them. This was a roller coaster ride with my brain. I had no idea if I was coming or going with it.
This is where I will stop because I will give it all away. So I will wrap up this review by saying I never saw that ending coming and I am still sitting here thinking how did I know see that coming.