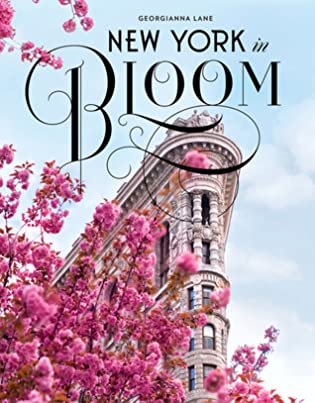 New York in Bloom
by Georgianna Lane
Published by
Harry N. Abrams on March 12, 2019
Pages:
160
Goodreads
Discover the floral heart of New York City in this companion to the popular
Paris in Bloom
by acclaimed photographer Georgianna Lane.
New York in Bloom leads you on a beautiful floral tour of the metropolis—past stylish floral studios and corner shops overflowing with fresh-cut blooms, through bustling flower markets, to blooming trees and lush public parks. With sumptuous photography, the unexpected, softer side of New York is revealed by juxtaposing floral beauty with exquisite botanical details found in the city's iconic architecture. Also included are field guides to locating and identifying common spring blooms, a list of recommended locations and vendors, and a tutorial on how to create your own New York–style floral bouquet. For anyone who loves New York City, flowers, and photography, New York in Bloom is a gorgeous gift and an essential addition to one's library of fine books.
I have had New York in Bloom on my wishlist since I first heard about it and never picked it. As much as I love anything New York I thought it was just a little bit pricey for me considering it's more of a coffee table book. So, when I found it on sale at an amazing price I couldn't resist and finally bought it.
I have looked through this book numerous times. The photos are absolutely beautiful.
Georgianna Lane is an amazing and talented photographer and you can see that in each and every one of her photographs. She writes and photographs each book she has done. Along with this one, she also has done Paris in Bloom, and London in Bloom are just two in her collection.
New York in Bloom showcases the parks and gardens in NYC and Georgianna takes us on a tour of them (and I loved that she included the location of them because I definitely need to check them out the next time I go to NYC) and I could never imagine anything so beautiful. She also takes us to the floral markets. I definitely was in the wrong parks of NYC because I never saw buckets of fresh cut flowers outside any markets so that is another thing I want to hunt for when I go.
I also love that she included directions on how to make your own NYC-style bouquet. I definitely want to try and make my own. Hopefully once covid restrictions ease up and when I feel comfortable I will visit a florist to see if I can get the flowers I need to make
The cover is gorgeous and I could look at it all day. Flipping through this book has definitely made me miss NYC. Hopefully, I will get back there one day soon.
I definitely have her other books on my wishlist and hopefully, I will pick those up when I see them on sale. This is a must for anyone who loves flowers and NYC.