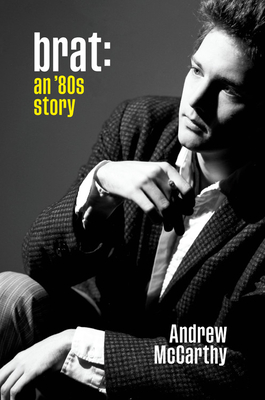 Brat: An '80s Story
Published by
Grand Central Publishing on May 11, 2021
Pages:
240
Goodreads
Fans of Patti Smith's Just Kids and Rob Lowe's StoriesI Only Tell My Friends will love this beautifully written, entertaining, and emotionally honest memoir by an actor, director, and author who found his start as an 80s Brat pack member. Most people know Andrew McCarthy from his movie roles in Pretty in Pink, St. Elmo's Fire, Weekend at Bernie's, and Less than Zero, and as a charter member of Hollywood's Brat Pack. That iconic group of ingenues and heartthrobs included Rob Lowe, Molly Ringwald, Emilio Estevez, and Demi Moore, and has come to represent both a genre of film and an era of pop culture. In his memoir Brat: An '80s Story, McCarthy focuses his gaze on that singular moment in time. The result is a revealing look at coming of age in a maelstrom, reckoning with conflicted ambition, innocence, addiction, and masculinity. New York City of the 1980s is brought to vivid life in these pages, from scoring loose joints in Washington Square Park to skipping school in favor of the dark revival houses of the Village where he fell in love with the movies that would change his life. Filled with personal revelations of innocence lost to heady days in Hollywood with John Hughes and an iconic cast of characters, Brat is a surprising and intimate story of an outsider caught up in a most unwitting success.
When I say the name Andrew McCarthy, what comes to mind? I am sure you instantly think 80s movie actor (Pretty in Pink, Mannequin, St. Elmo's Fire and Weekend at Bernie's) or a member of the Brat pack (which we discover wasn't a close-knit band of friendships like we all thought it to be) but did you know that he is a director and author as well?
I am a teen from the '80s and I am not going to lie, but I had a huge crush on Andrew. I mean with his boyish charm and good looks how could you not have a crush on him?
A few years ago I was fortunate enough to get the chance to meet Andrew at Book Expo (2013) when he was promoting his audiobook for The Longest Way Home: One Man's Quest for the Courage to Settle Down (which I plan on posting a review very soon for this). It was a panel that I loved listening to and hearing Andrew speak about his book and not his fame was a once-in-a-lifetime opportunity.  Afterward, he was graciously signing copies of the audiobook and I gathered all the courage in the world to ask for a photo.
To this day I cherish that moment in time because after reading Brat: An 80's Story you can tell Andrew never felt comfortable with the overall fame he received. Yes, he rolled with it but deep down he would rather be somewhere else when it comes to premieres, parties, hanging out with other actors etc. So, looking back on that moment yes I do cherish it but at the same time, I feel bad knowing he was probably not comfortable but doing it because he didn't want to disappoint.
After reading this you realize that what you see on your screens is just one version of the person and that there is actually much more to the person and in Andrew's case you see one thing but in reality, he is struggling from insecurities of being a late bloomer, he nervous and anxious. He admits in the book that many times he sabotaged things but his drinking. He is struggling to fit in and find his place. He was trying to be a people pleaser and do what was expected of him. I mean how could you blame him because people were constantly telling him negative things.
If you're looking for a kiss and tell-all book about Hollywood, making movies, behind-the-scenes juicy details with fellow castmates this is not it. This is Andrew telling his story of growing up, being an actor from going to school in NYC to auditioning and finally becoming a director. He never throws anyone under the bus. He shows that there is more to Andrew than we know.