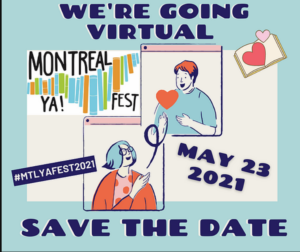 Being a book blogger for almost 13 years (August 2021 will mark my 13th year) and a book lover for almost all my life, I still get excited about books, book signings, authors, and book events and I love to share them with you as you can see from various past posts I have made about it.
If you know me in real life or even online you will know that I live in Canada, specifically Montreal. Even though we are a hustling bustling major city we don't have anything really book-related happening here. We don't get the big named authors like Toronto does, and getting young adult authors into Montreal never happens (not sure if it's based on the language or what)  so I am always jealous when I hear all these fantastic authors going into Toronto for book signings. Sadly getting to Toronto requires either driving (close to 6hrs), flying (roughly under 2 hours and $$$), or taking the train (roughly 6 hours and less than $200 return).
But now I can actually say that I am happy to be living here in Montreal because due to the hard work of the Jewish Public Library and with help from Sarah Mlynowski Montreal now has a fantastic young adult book festival that happens once a year
Yesterday, May 23th, I attended the 3rd annual MTL YA FEST! virtually. Last year due to Covid-19 they had to cancel the event but over the course of the year, they managed to bring the event back virtually via zoom. It definitely wasn't the same as being there in person but I am so happy they managed to make it happen virtually.
I definitely missed buying all the books and getting them signed but I do know that Babar Bookstore has a stocked inventory of signed books available so I might have to place an order for a few of them.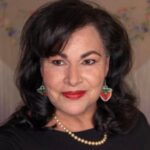 Angeline Boulley was the keynote speaker. She is the author of Fire Keepers Daughter. A book that I definitely have to pick up and read asap. Did you know that this is going to be adapted into a movie by Netflix?
During her keynote, she talked about her family, where she came from, what a firekeeper is and what they do. Then she went on to talk about her book and what was her inspiration behind it. It was all based on what would have happened if? How many times have we said I wonder what would have happened if I did this or I did that?
Another thing that she spoke about was dreams. She spoke about an interview she watched about Billy Joel and he said he dreams in music and the first thing he does when he wakes up is to sit at his piano and to try and recreate what he dreamt. Angeline said that she "Dreams in stories" What do you dream in?
After the keynote, you had the choice to visit one of three panels taking place in three meeting rooms. The first panels were Here Comes The Paranormal, Tips of the Trade, and Indigenous Own Voices.  Deciding what to attend is always the hardest part even when it was in person. My only wish was that I wish they would have been able to record all the panels so that you could go back and watch later.
The panel I picked was Here Comes The Paranormal. The authors that were on this were Regina Hansen, Kelly Powell, and JF Dubeau. They spoke about how in the beginning it was all about vampires, werewolves etc, and that it's now evolved into much more. I agree I remember when it first became a thing it was all about vampires etc. Back then I never read anything because it never interested me. Yes, I do admit to reading paranormal romance but it was shapeshifting that got me. One of the things I took away from this panel was the authors saying "write what you want to read" and that is so true.
The next panels were All Debuts are Good Debuts, The Show Must Go On: Sequels and Series, and Writing Process. My only wish here was that I wish they would have put All Debuts are Good Debuts and The Show Must Go on right after each other instead of at the same time. I really wanted to attend that one. I think it would have been perfect to go from debuts to series.
Anyways, I attended All Debuts are Good Debuts with authors Anuradha Rajurkar, Loan Le, Kelly Powell, Sarah Suk, Crystal Maldonada, and Regina Hansen.
This was such a fun panel. Everyone talked briefly about their debut books, the process of writing them, and the excitement of getting them sold. Sarah was telling us the story about how she was at the library writing when she got the call that Made in Korea and how excited she was and then outside the library, she broke down and cried.
Writing a book and getting it sold is not an overnight process and this can take months to years. They also spoke about how long it took them to write their books and even that is not an overnight process. You definitely need a friend or friends to support you in this process. Crystal admitted that she didn't tell anyone she was writing a book and that her husband was reading and being her sounding board. I think it's all about the right time right place when it comes to writing a book and selling it.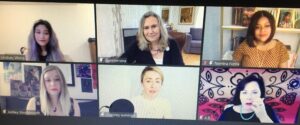 This was the time of the day where it was super hard to pick what panel to attend because I wanted to be in three places at the same time. The panels were Tough Stuff, Middle-Grade Mania, and Thrillers. All three sounded interesting but in the end, I went with Tough Stuff.
On this panel were authors Courtney Summers, Lindsay Wong, Ashley Shuttleworth, Namina Forna, Angeline Boulley, and Diane Terrana. If I recall I think Namina had a little guest with her. I could see her dog's head peeking up a few times. It was too cute.
This was such an interesting panel and clearly a subject that needs to be covered more in ya books. YA books have definitely come a long way since I was a young adult. I think the riskiest books I ever read were Judy Blume and V.C Andrews. The topics that are in YA books now were never a thing in the past. It was like it was taboo to write about such things back then. It's nice to see that authors are taking control and making those tough issues matter today.
As Lindsay said "life is hard, messy and complex" which is so true. We need more books that tackle the tough issues of what is going on in the world today. We don't need it to be sugar-coated like it was in the past.
The panel also discussed and I completely agree that violence or other things shouldn't be included in a story or book if it does nothing to a story. I have read so many books over the years where I feel authors add things that just don't need to be added but add it because they think it's what they should do or it's what readers want.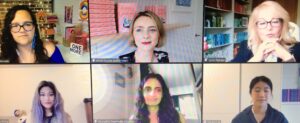 It was at this point I realized how fast the day was going but I was having so much fun listening to all these fantastic authors speak.
The next set of panels were Rainbow Panel, Fantasy, and Contemporary. This was another instance where I wish I could have been in two places at once or wish they were recording the panels because I wanted to take part in the Rainbow one. I decided to go with Contemporary.
The authors on this panel were Crystal Maldonado, Anne-Sophie Jouhanneau, Lynn Painter, Lindsay Wong, Anuradha Rajurkar, and Sarah Suk. I feel like I am repeating myself over and over again but this was another interesting panel to take part in. The authors spoke about all kinds of things such as representation matters, diversity matters, and that YA readers are very passionate about the books. I have to agree ya readers are very passionate about the books they read.
The authors also spoke about how some people criticize YA and it is a less than genre which I have to disagree with, YA is not less than any other genre, YA is important and its evolved so much over the decades and years. So many topics that affect teens are coming to light to let these teens know they aren't alone in their thoughts and feelings. I wish I had half the books that our out today when I was a teen.
I also disagree when people criticize adults for reading YA. What is wrong with adults reading YA? I think no matter the genre we should be applauding people for reading and not what they are reading. We all need to be less judgemental about it.
I loved that the authors shared what books they loved reading. I might have added a bunch of books to my wishlist after this panel.
The big takeaway from the authors was to write what you want to read and that is so true.
On a totally unrelated side note, I could not help but stare and admire Lynn's background. Her bookshelves are organized by colour. I know once I get my basement redone I want to do this with my books.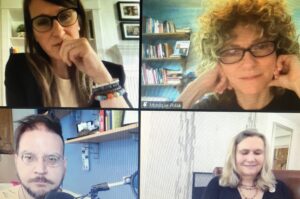 This was another easy panel for me to pick from. The second to last panels of the day was YA Fandom Creators, NaNoWriMo Panel, and O Canada. This is probably a no-brainer but I went with O Canada. I really need to up my Canadian content on my blog and into my reading in general. Canada has so many fantastic writers and not just the big named ones.
The authors talked about all kinds of things but one of the key things was that we need to protect our Canadian culture. If you read books by Canadian authors your will notice that not a lot will say this takes place in Canada even though they go into detail about the location because when you do that you literally could be describing any major city in the USA per se. I know I am always excited to see a book that is literally a Canadian city mentioned.ie Montreal, Toronto, and gee even my small town of Bathurst. I understand publishers are wanting their books to see more American but I think as Canadians we should be vocal that we what our stories to have Canadian backgrounds.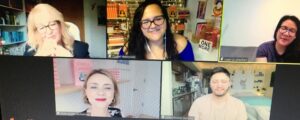 I have to apologize for the really bad photo but I almost completely forgot to take one. This was one of the funniest panels of the day.
So this was another hard one to pick because the last panel of the day was We Need Diverse Books, YA Romance, and Family. Yes, we need more diverse books and I hope that the publishers are working on that.
I decided to join the YA Romance panel because I love YA romance because we all remember our first crush, our first love etc. I remember being a young adult and experiencing all the love and heartbreak. The good relationships and the bad. We went in full speed ahead and sometimes had our hearts broken and we thought the world was going to end.
All the authors could agree that when they read romance they are wanting the romance. They also talked about we need to normalize healthy relationships in books. That characters need communication about what they want and don't want. Yes, we all love bad boys but bad boys don't need to be bad in relationships.
Not sure how many of us can say that to this very day we are still in contact with our first crush or first love but I can honestly say that I am and even though those relationships never panned out maybe it was for the best.
I have yet to read any of Aiden's books but after this panel, I need to read his books. Did you know he does a 50+ page outline on his books? I literally could not stop staring in his background, it was gorgeous. He is so funny. I could not stop laughing during this panel. This was definitely one that should have been recorded.
So with that is the conclusion of this year's MTL YA Fest. The closing remarks were from Talya who was one of the original organizers and I found out that she has stepped away from organizing this event and had passed the reins onto someone else and she did a fantastic job organizing it this year given the circumstances in the world. The hope is that next year it will be in person again and I have my fingers crossed that it will happen.
I had so much fun attending this and yes it would have been nice to be there in person but being safe is so much better giving what is going on. Had this been done in person I am not sure I would have attended. I am happy they decided to do it virtually because not having any at all would have sucked.
I am sad that I never got to see any of the following authors speak: Liselle Sambury, Erica S, Perl, Chief Mi'sel Joe, Sheila O'Neill, Dhonielle Clayton, Debbie Rigaud, Gordan Korman, Celia S. Perez, June Hur, Tess Sharpe, Kacen Callender, and Tanya Boteju, Hopefully, one day I will get the chance.
Thank you once again MTL YA Fest for hosting and organizing this amazing event. Thanks to all the authors who take part and invited us into their homes,
Until next year.