The Books: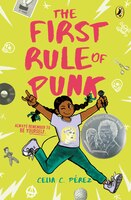 A 2018 Pura Belpré Author Honor Book
The First Rule of Punk is a wry and heartfelt exploration of friendship, finding your place, and learning to rock out like no one's watching.
There are no shortcuts to surviving your first day at a new school—you can't fix it with duct tape like you would your Chuck Taylors. On Day One, twelve-year-old Malú (María Luisa, if you want to annoy her) inadvertently upsets Posada Middle School's queen bee, violates the school's dress code with her punk rock look, and disappoints her college-professor mom in the process. Her dad, who now lives a thousand miles away, says things will get better as long as she remembers the first rule of punk: be yourself.
The real Malú loves rock music, skateboarding, zines, and Soyrizo (hold the cilantro, please). And when she assembles a group of like-minded misfits at school and starts a band, Malú finally begins to feel at home. She"ll do anything to preserve this, which includes standing up to an anti-punk school administration to fight for her right to express herself!
Black and white illustrations and collage art throughout make The First Rule of Punk a perfect pick for fans of books like Roller Girl and online magazines like Rookie.
"Armed with a microphone and a pair of scissors, this book is all about creating something new and awesome in the world. Malú rocks!" –Victoria Jamieson, author and illustrator of the New York Times bestselling and Newbery Honor-winning Roller Girl.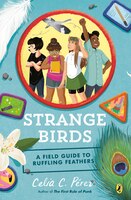 From the award-winning author of The First Rule of Punk comes the story of four kids who form an alternative Scout troop that shakes up their sleepy Florida town.
*"Writing with wry restraint that"s reminiscent of Kate DiCamillo… a beautiful tale." —Kirkus Reviews (starred review)
When three very different girls find a mysterious invitation to a lavish mansion, the promise of adventure and mischief is too intriguing to pass up. Ofelia Castillo (a budding journalist), Aster Douglas (a bookish foodie), and Cat Garcia (a rule-abiding birdwatcher) meet the kid behind the invite, Lane DiSanti, and it isn"t love at first sight. But they soon bond over a shared mission to get the Floras, their local Scouts, to ditch an outdated tradition. In their quest for justice, independence, and an unforgettable summer, the girls form their own troop and find something they didn"t know they needed: sisterhood.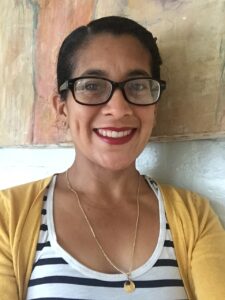 About The Author:
Celia C. Pérez is the daughter of a Mexican mother and a Cuban father.  Her debut book for young readers, The First Rule of Punk (Viking / Penguin), was a 2018 Pura Belpré Award Honor Book, a 2018 Boston Globe-Horn Book Awards honor book, and a winner of the 2018 Tomás Rivera Mexican American Children's Book Award. Her second book for young readers, Strange Birds: A Field Guide to Ruffling Feathers (Kokila / Penguin, 2019), is an Association of Library Services to Children Notable Children's Book and was named to several best-of-the-year lists. She lives with her family in Chicago where, in addition to writing books about lovable weirdos and outsiders, she works as a community college librarian.

One of the things that I absolutely love about the MTL YA Fest is being exposed to new to me authors and their books. I will be checking out these books.