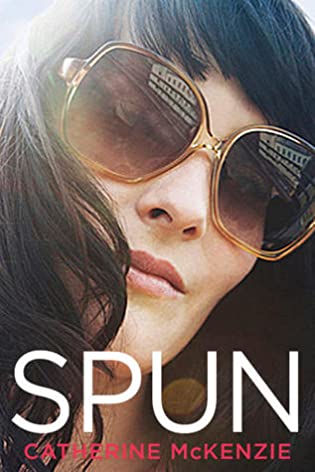 Spun (Spin, #2)
by Catherine McKenzie
Published by
HarperCollins Publishers on April 29, 2014
Pages:
120
Goodreads
In this funny and touching novella, bestselling author Catherine McKenzie returns to the story of Amber Sheppard, It Girl and celebrity train wreck from McKenzie's reader-favourite novel, Spin.
Life has been rough for starlet Amber since leaving rehab. She's been two years sober, but no one seems to believe her -- not the gossip media, not casting agents, and most certainly not her spotlight-loving parents. With her friendships ruined by betrayal and her career at a standstill, Amber's just trying to get her life back on track. It doesn't help that her former love, movie star Connor Parks, keeps trying to draw Amber back in, not just to their relationship but to his hard-partying ways. One fateful night, Amber breaks down and agrees to join him on board his private jet as it readies for take-off -- a decision that will change her life forever and expose her to a whole new level of scrutiny and heartbreak.
The first book in this duology was Spin and I loved it and when it ended I was left wondering about Amber, Katie, and Connor so it was nice to see that Catherine had written this novella to sort of bring a little update on them.
I won't get into Spin but if you want to know what I thought you can go back to my post from yesterday and you will see my review.
Spun is told from Amber's point of view. It was really nice to hear Amber's side. Amber has completed two years of rehab and she is very proud of herself for what she has managed to accomplish. Its been hard for her because at every turn there is someone who is trying to put her down and not believe her. I mean she says she is clean and sober but when you see someone stumbling around you have to wonder, right?
Even though Amber has moved on with her life and is trying to get her life back on track, she is still drawn to Connor, who she realizes is toxic to her recovery. You can see she wants to be with him and wants him to get help. She drops everything to rush to him when he calls her. Little does she realize that this will be the last time she sees him.
When she hears the news she is upset wondering if she had stayed could things have been different? It's a tough call to make and one that I think she regrets making. Would you be able to stay or would you walk away?
Since it's such a quick read I don't want to give away too much but if you loved and enjoyed Spin then I highly recommend you pick this up to read.