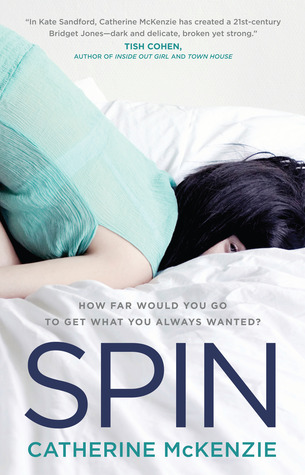 Spin (Spin, #1)
by Catherine McKenzie
Published by
HarperCollins Canada on December 29, 2009
Pages:
443
Goodreads
Katie Sandford has just gotten an interview at her favourite music magazine, The Line. It's the chance of a lifetime. So what does she do? Goes out to celebrate -- and shows up still drunk at the interview. No surprise, she doesn't get the job, but the folks at The Line think she might be perfect for another assignment for their sister gossip rag. All Katie has to do is follow It Girl Amber Sheppard into rehab. If she can get the inside scoop (and complete the 30-day program without getting kicked out), they'll reconsider her for the job at The Line.
Katie takes the job. But things get complicated when real friendships develop, a cute celebrity handler named Henry gets involved, and Katie begins to realize she may be in rehab for a reason. Katie has to make a decision -- is publishing the article worth everything she has to lose?
When I look back on my review and remembering this book I have to admit that I still feel the same way about Katie being a train wreak happening. She might not want to really admit it but she has a drinking problem and it causes a lot of problems for her that she really isn't aware of or wants to admit to.
She finally gets the interview for her dream job to write for The Line. She has wanted to write for them for a long time but she manages to basically manages to screw that up by showing up to the interview late and drunk. Which of course is never a good thing.
Katie is afraid to face reality with herself and everyone around her. She is a party girl who has yet to really grow up and is going around lying about her age. She hangs around university kids so that she can feel like she fits in while her friends that her age have grown up and gone about their day-to-day lives being adults. Sure its fine to have fun but at some point, you have to be accountable for your actions and be a mature adult.
A few days later Katie gets another call from another boss at The Line called Bob. He is offering Katie another job with the company but it's for the gossip magazine and promises her that if she does good on this job then he will hire her to work at The Line. Her job will require here to go to rehab as a patient and spy on IT Girl, Amber Sheppard. She is the hottest thing in Hollywood. She agrees because she will do anything to work for The Line.
At first, Katie goes with the flow and takes it as it is, not really taking in the rehab. She is there to do a job and doesn't feel she has a problem. As time goes by Katie begins to see it and admits she does have a problem. She finds herself, friends, with Amber and admits that she likes her.
Things are good while they both are in rehab until they are released and Bob informs Katie she has an article to write. Katie is stuck if she doesn't submit this article she can be sued and if she does submit the article she loses her friendship with Amber. What is Katie to do? Will she risk it all?
This was Catherine's debut novel.