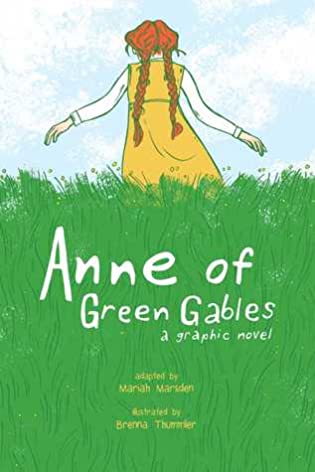 Anne of Green Gables: A Graphic Novel
Published by
Andrews McMeel Publishing on October 24, 2017
Pages:
232
Goodreads
Schoolyard rivalries. Baking disasters. Puffed sleeves. Explore the violet vales and glorious green of Avonlea in this spirited adaptation.
The magic of L.M. Montgomery's treasured classic is reimagined in a whimsically-illustrated graphic novel adaptation perfect for newcomers and kindred spirits alike. When Matthew and Marilla Cuthbert decide to adopt an orphan who can help manage their family farm, they have no idea what delightful trouble awaits them. With flame-red hair and an unstoppable imagination, 11-year-old Anne Shirley takes Green Gables by storm.
Anne's misadventures bring a little romance to the lives of everyone she meets: her bosom friend, Diana Barry; the town gossip, Mrs. Lynde; and that infuriating tease, Gilbert Blythe. From triumphs and thrills to the depths of despair, Anne turns each everyday moment into something extraordinary.
The spirit of Anne is alive and well in Mariah Marsden's crisp adaptation, and it's a thrill to watch as the beloved orphan rushes headlong through Brenna Thummler's heavenly landscapes. Together Marsden and Thummler conjure all the magic and beauty of Green Gables. Like Anne herself, you won't want to leave. — Brian Selznick, author/illustrator of "The Invention of Hugo Cabret" and "The Marvels"
Back in 2017, I was graciously provided with an e-ARC copy of Anne of Green Gables A Graphic Novel and since then I have bought my own copy just because I loved it and because it's Anne of Green Gables. If you know me in real life you know that I love Anne of Green Gables. I grew up reading the book series and loved it. To this very day, I still love it. I love going back and rereading it.
I have mentioned this before when I have reviewed a few graphic novels/mangas here on the blog that I always struggle with my reviews because I never know exactly how to review them. If you have any tips please share them with me in the comments section.
I will begin by saying that I loved the full-colored illustrations and Brenna Thummier did a fantastic job bringing Anne's world to the book. The illustrations are colorful.
I am sure it must be hard to adapt a classic like Anne of Green Gables into a graphic novel but Mariah did a fantastic job and brought the best parts to life and the ones we all know from the book.
This is a condensed version of the book but includes the key parts of the story such as the beautiful ride with Mathew to Green Gables, Anne's over-the-top apology to Rachel, and Anne hitting Gilbert with the slate. Plus a few others. Although I must warn you in advance to have a tissue ready because we all know what happens near the end. I knew it was coming and I still cried.
This is a super quick and easy read perfect for fans of Anne's and kids who love graphic novels.