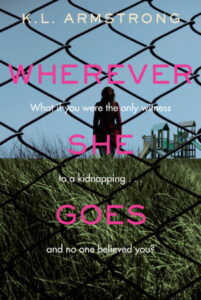 Wherever She Goes
on June 25th 2019
Pages:
304
Goodreads
When it's your word against everyone else's--what do you do?
Bree Finch has fallen on some troubled times: her marriage has ended, she's separated from her young daughter, Charlotte, and she's haunted by a past she can't escape. Routine helps, and every afternoon, during her lunch break, Bree goes for a jog in the park near her office. It's the same every day: the same route, the same mothers with their children, the same people walking their dogs.
One day, during her jog, she spots a young boy a bit older than Charlotte, a boy she saw just the day before with his mother. But his mother is nowhere to be seen now. Nervous, Bree watches the boy as he wanders into the parking lot. And then she watches as a man grabs the boy, forcing him into an SVU. She watches as the boy cries and screams for his mother. She watches as the man slams the door shut, revs the engine and takes off.
She runs after them into traffic, and tries to take a photo, but can't. The SVU is gone.
Bree can't deny what she's seen, and she can't get the little boy or his screams out of her head. But, she's the only one who believes that she witnessed the kidnapping of a child. No one else at the park saw the boy or someone snatching him, and she can't give a detailed description of the child. The police don't believe her, nor does her estranged husband, with whom she has a tense and complicated relationship. Instead, they begin asking Bree the questions: Why is she always alone in the park? Why does she spend so much time there? Does she realize that she makes the other mothers nervous, with the way she watches them and their children?
Then, days later, a woman is murdered--and Bree is the first person the police talk to.
Not because they think she may have witnessed something.
Not because they believe her about the kidnapped boy.
Because she's their main suspect.
I am a huge fan of Kelley Armstrong and she is pretty much an automatic buy for me as I tend to devour her books fairly quickly. Although with that being said for some reason I never read this. I had to double-triple check just to be sure and in fact, it was correct, I never read this. Since it was Canada Day I decided now was the perfect time to read it because Kelley is a Canadian author.
Wherever She Goes is a stand-alone book.
Our main character is Aubrey. Aubrey is separated from her husband, Paul. They have a daughter together and he has primary custody. This really intrigued me because as you read you realize that Aubrey has so many secrets that no one knows about. As the story progresses more is revealed about her past and the reasons she did what she did.
One day Aubrey is in the park and she witnesses a little boy being forced into a car. Like any normal person who witnesses this, she instantly calls the police. The only problem is no one has called to report a missing child. Aubrey knows this little boy as they met briefly the week before with his mother. Where is his mother and why hasn't she reported him missing?
With no reports of a missing boy, the police don't believe her (after questioning the other parents that were in the park as they saw nothing) and feel as though she is doing this for attention. Aubrey knows who the boy is and knows he was taken but decides maybe she should focus on her own daughter but her gut keeps telling her otherwise.
When an unidentified woman appears on the news as being murdered Aubrey recognizes her. She once again goes to the police but no one is taking her seriously so she decides to take matters into her own hands because she knows there is a little boy who needs her help. She is willing to risk her own past coming to light to help this little boy out.
As she continues to investigate she soon realizes her life is in danger. How far will Aubrey take it? Is she willing to risk it all for a little boy she doesn't really know?
I highly recommend this super quick and exciting read that will have you on the edge of your seat. So many twists and turns that will make you want to keep flipping the pages to discover more.