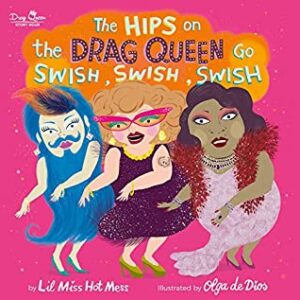 The Hips on the Drag Queen Go Swish, Swish, Swish
on May 5th 2020
Pages:
40
Goodreads
Playing off "The Wheels on the Bus," this dazzling nursery rhyme book covers all the ways drag queens "work it," by one of the drag queens from the nationally acclaimed Drag Queen Story Hour.
The Hips on the Drag Queen Go Swish, Swish, Swish encourages readers to boldly be exactly who they are. Written by a founding member of the nationally recognized Drag Queen Story Hour (DQSH), this fabulous picture book offers a quirky twist on a classic nursery rhyme. The story plays off "The Wheels on the Bus" as it follows a drag queen who performs her routine in front of an awe-struck audience. A fun, freewheeling celebration of how to be your most dazzling self, this book will appeal to young and old readers alike.
These are the times when I wish I had a little one in the house because I would have loved to read this to them over and over again.
The illustrations are gorgeous. Bright and colorful.The costumes they were were stunning. It really brings the book to life in my opinion.
I loved how it wasn't just characters in the book but everyone had a name and they are all lovely names such as Cinderfella, Stinkerbell, Ritabook, and a few others. As the story goes along more and more of the characters are introduced and join in the celebrations.
I love that it wasn't just one kind of drag queen but many in a range of skin tones, sizes etc. We need to show our kids there is more to the world because its not just straight forward.
I do have to say that after reading it you will be singing  The Hips on the Drag Queen and dancing all day. Which in this current time its not a bad thing,
I highly recommend this book. I know its geared towards the age group 4 to 8 but I think anyone would love this.