About the Books: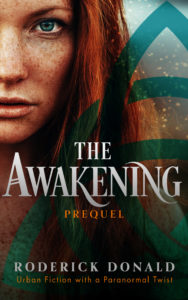 Title: THE AWAKENING (Cait Lennox: Femme Fatale Series Book 1)
Author: Roderick Donald
Pub. Date: July 7, 2019
Publisher: Roderick Donald
Formats: Paperback, eBook
Pages: 304
Find it: Goodreads, Amazon, Kindle, B&N, TBD
A violent bashing; a life destroyed. But why has such an obscure occurrence touched so many lives?
When twenty-three-year-old Cait's lover is brutally and randomly murdered, this violent assault has far-reaching effects not only for Cait, but also for her baby boomer parents, their close friends and business acquaintances, plus their millennial children.
In her darkest moments, Cait's shamanic mother introduces her daughter to the Otherworld, a Druidic realm that parallels the world around us. Cait's ancient bloodline whispers to her enticingly from the other side, bestowing amazing paranormal powers of insight and perception upon her—the power of The Gift.
But will Cait accept this strange multi-dimensional world? Or is it just New Age mumbo-jumbo?
The Awakening is a contemporary urban adventure peppered with a touch of the paranormal. It's an insightful tale about family, friendship, love, sex, beliefs, and personal growth. It follows Cait's personal journey, along with that of her family and close friends as they change, grow, and adapt to the challenges placed in front of them after this random and senseless attack.
This must-read tale is the scene setter for Cait's later exciting adventures as her amazing paranormal powers of insight and perception grow and develop.
Start reading the first book in this exciting series today!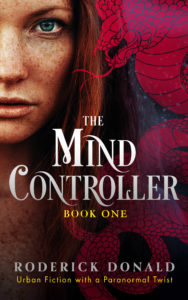 Title: THE MIND CONTROLLER (Cait Lennox: Femme Fatale Series Book 2)
Author: Roderick Donald
Pub. Date: July 7, 2019
Publisher: Roderick Donald
Formats: Paperback, eBook
Pages: 302
Find it: Goodreads, Amazon, Kindle, B&N, TBD
A lover brutally murdered; a violent kidnapping; a female scorned. And no closure. Insights from the Otherworld shed light on a case going nowhere.
When twenty-three-year-old Cait is violently kidnapped by her lover's murderers, her once-pleasant life is shattered. She's haunted by terrifying, evil nightmares-apparitions that are really a calling card from the Otherworld.
The cops are making zero headway locating the perpetrators, so she takes matters into her own hands. Cait demands payback.
But first she must overcome her scepticism. In the face of overwhelming odds, Cait unknowingly transforms into a dangerous femme fatale; a ruthless Otherworld being with the power to read minds and control the world around her.
Will this be enough to conquer the vile beast pursuing her in her prophetic visions?
If you love contemporary urban fiction, mystery and action, exotic Asian locales and paranormal forces you'll devour this second book in Roderick Donald's page-turning series.
Download The Mind Controller today!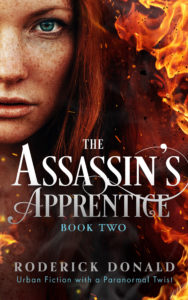 Title: THE ASSASSIN'S APPRENTICE (Cait Lennox: Femme Fatale Series Book 3)
Author: Roderick Donald
Pub. Date: August 2019
Publisher: Roderick Donald
Formats: Paperback, eBook
Pages: ?
Find it: Links coming soon!
It's time to panic. The Gatekeeper is about to cut you're beating heart out and steal your soul . . .
When Cait's younger brother Dec is mortally injured by a terrorist's deadly car bomb during a chilled-out family holiday in Sicily, Italy, she is totally devastated. Distraught. And determined to chase down the perpetrators. But happy-go-lucky, congenial Cait is not a person to cross. Especially when it comes to family. They're sacrosanct, and the line in the sand was crossed when the bomb exploded.
Cait demands payback. And retribution.
But how? She's in a foreign land, the odds are totally stacked against her, and she's on her own. Or is she?
Voices from the Otherworld—Cait's ancient Shamanic grandmothers—are constantly in her ear as she wanders between this and the Otherworld, coaching her, guiding her, protecting her. An innocent fourteen boy who was ritually sacrificed, his soul then stolen by the evil Otherworld beast Soran, the Gatekeeper of Lost Souls, constantly haunts Cait as the child drifts aimlessly in an ethereal no-man's land, half way between Heaven and Hell, searching for release and a life in the next dimension.
Then Sergeant Tony 'Ice' O'Donnell enters Cait's world: terrorist hunter, trained killer, assassin. A fractured SAS soldier of fortune and an Australian Security Intelligence Organisation field agent who operates on the edges of legal. Together they stumble across a secretive and dangerous sect dating back to the Crusades: The Brethren of the True Believers. Ruthless tyrants and captains of commerce and industry who are under the control the Gatekeeper.
Somehow this is all inter-related. But how? Will Cait manage to locate the terrorists and extract the revenge that she so desperately wants to mete out? And will she beat the odds and save the next child to be ritually slaughtered?
Cait's paranormal powers of insight and perception are pushed to the max. But will this be enough to survive the mayhem and onslaught?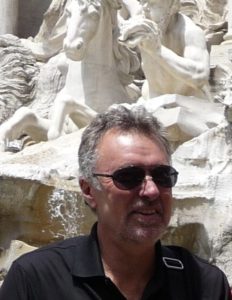 About Roderick Donald:
But first, call me Rick – all my friends do!
Rick is the creator of the breakout contemporary paranormal Urban Fiction series detailing Cait's dramatic journey from a happy-go-lucky, 23-year old millennial to a powerful and ruthless femme fatale.
When Rick initially wrote The Awakening in 2011 it was a stand alone book. However, as soon as he finished it he sensed that there was an even bigger story wanting desperately to emerge, so he put the book aside to percolate and it was never published.
Then one day, in a blinding flash of the obvious seven years later, Cait started screaming at Rick from the pages of his novel: "Let me loose. I've got a journey to pursue". Her remonstrations led to the second book in the series, The Mind Controller, being written over a three month period in 2018. To tie the two books together, The Awakening then required revisiting and totally rewriting. All up, it took a further four months for Rick to put the whole series together from nose to tail.
While the first two books were being prepared for publication, a third book in the series quickly followed as Cait had another adventure to embark on. The Assassin's Apprentice is a nail-biting urban adventure where Cait's powers of insight and perception are stretched to the max. as she travels the world, chasing down the murderous and illusive secret sect, Brethren of the True Believers.
Book number four is currently gelling in Rick's head and will be out in early to mid 2020. Cait's amazing paranormal powers continue to grow and mature as she seamlessly moves between current reality and the Otherworld. On the recommendation of fractured and secretive ex-SAS soldier of fortune, Tony 'Ice' O'Donnell, she is picked up by ASIO as a specialist undercover operative. Cait ends up their go-to person when all else has failed and they are at a dead end with a case going nowhere.
Rick is a bit of an adventurer, a sometimes adrenalin junky and a world traveller (67 countries and still counting). He's into competitive bay sailing, ocean racing, road bike riding, scuba diving, natural health and keeping fit. Rick lives in Melbourne, Australia, with Sandi, his wife of many years, and is the proud father of two thirty-something millennial children. There are also two beautiful young grandchildren in the mix who Sandi and Rick spoil to excess!
Website | Twitter | Facebook | Goodreads
Giveaway Details:
3 winners will receive signed finished copies of their choice of book in the CAIT LENNOX:FEMME FATALE Series, US Only.
Tour Schedule:
Week One:
7/29/2019- K.L Novitzke – Author– Excerpt
7/30/2019- My Creatively Random Life– Review
7/31/2019- Country Road Reviews– Excerpt
8/1/2019- Books a Plenty Book Reviews– Review
8/2/2019- Jaime's World– Excerpt
Week Two:
8/5/2019- Parajunkee– Excerpt
8/6/2019- Colorimetry– Excerpt
8/7/2019- Mythical Books– Excerpt
8/8/2019- Owl Always Be Reading– Excerpt
8/9/2019- Smada's Book Smack– Excerpt
Week 3:
8/12/2019- PopTheButterfly Reads– Excerpt
8/13/2019- Book Briefs– Review
8/14/2019- Cindy's Love of Books– Review
8/15/2019- A Dream Within A Dream– Excerpt
8/16/2019- A Gingerly Review– Review
Week 4:
8/19/2019- Simply Daniel Radcliffe– Review
8/20/2019- the suburban lifestyle– Review
8/21/2019- Daily Waffle– Review
8/22/2019- TBD
8/23/2019- TBD
Week 5:
8/26/2019- BookHounds– Interview
8/27/2019- The Tired Buyer– Guest Post
8/28/2019- Two Chicks on Books– Interview
8/29/2019- Good Choice Reading– Excerpt
8/30/2019- TBD