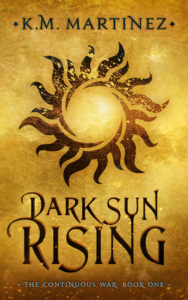 Title: DARK SUN RISING (The Continuous War, #1)
Author: K.M. Martinez
Pub. Date: August 2, 2019
Publisher: K.M. Martinez
Formats: Paperback, eBook
Pages: 272
Find it: Goodreads, Amazon
FREE on KU!
Melanie Mendez of Clan Kale isn't sure if she believes in angels, but she's pretty sure she's not a descendant of one.
Her grandmother, the Elder of Clan Kale, would beg to differ. Her brothers, Victor and Gabe, would tell her to shut up about it and just do what she's supposed to do: fight. Specifically, they want her to follow The Ways by participating in the Agora–the annual gathering where the seven clans compete for honor.
But Mel has never been one for competition, and the other clans have started to take notice. When she narrowly avoids being killed by a mysterious man the night before the Agora, she can't help but wonder if the other clans have judged her according to The Ways: as a traitor.
One way or another, this Agora is about to turn deadly.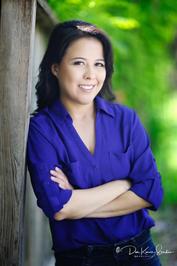 About K.M.:
KM Martinez lives in San Antonio, Texas. She is a fan of books, sports, and movies/television. Her first novel, Dark Sun Rising, is set to be released in August 2019.
When she's not writing book two she is busy with work, friends, family, and Brazilian Jiu Jitsu.
Website | Twitter | Instagram | Facebook | Goodreads | Amazon Author Page | Bookbub
Giveaway Details:
3 winners will win an eBook of DARK SUN RISING, INTERNATIONAL.
Rafflecopter Embed Code:
Tour Schedule:
Week One:
8/19/2019- Dorky Girl and Skeletor– Excerpt
8/19/2019- Wonderstruck– Spotlight
8/20/2019- Smada's Book Smack– Spotlight
8/20/2019- Country Road Reviews– Excerpt
8/21/2019- Book Sniffers Anonymous– Excerpt
8/21/2019- Jaime's World– Excerpt
8/22/2019- Parajunkee– Excerpt
8/22/2019- Colorimetry– Excerpt
8/23/2019- PopTheButterfly Reads– Excerpt
8/23/2019- Owl Always Be Reading– Excerpt
Week Two:
8/26/2019- BookHounds– Interview
8/26/2019- Book Briefs– Review
8/27/2019- Cindy's Love of Books– Review
8/27/2019- Two Chicks on Books– Interview
8/28/2019- Good Choice Reading– Excerpt
8/28/2019- Simply Daniel Radcliffe– Review
8/29/2019- Jypsylynn– Review
8/29/2019- Daily Waffle– Spotlight
8/30/2019- the suburban lifestyle– Review
Rafflecopter link:
http://www.rafflecopter.com/rafl/display/e2389ba2966/?
Tour Schedule:
Week One:
8/19/2019- Dorky Girl and Skeletor- Excerpt
8/19/2019- Wonderstruck- Spotlight
8/20/2019- Smada's Book Smack- Spotlight
8/20/2019- Country Road Reviews- Excerpt
8/21/2019- Book Sniffers Anonymous- Excerpt
8/21/2019- Jaime's World- Excerpt
8/22/2019- Parajunkee- Excerpt
8/22/2019- Colorimetry- Excerpt
8/23/2019- PopTheButterfly Reads- Excerpt
8/23/2019- Owl Always Be Reading- Excerpt
Week Two:
8/26/2019- BookHounds- Interview
8/26/2019- Book Briefs- Review
8/27/2019- Cindy's Love of Books- Review
8/27/2019- Two Chicks on Books- Interview
8/28/2019- Good Choice Reading- Excerpt
8/28/2019- Simply Daniel Radcliffe- Review
8/29/2019- Jypsylynn- Review
8/29/2019- Daily Waffle- Spotlight
8/30/2019- the suburban lifestyle- Review