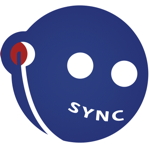 I just wanted to take a quick moment to remind you about SYNC is a free summer audiobook program for young adults but you can do this to.  From April 25th to August 1st, SYNC gives away two complete audiobook downloads a week –pairs of high interest titles, based on weekly themes. Sign up for email or text alerts and be first to know when new titles are available to download at www.audiobooksync.com.
I have always wanted to give audio books another chance and what better way then through SYNC Audio Books. These are actually both books I have never read so I am excited to give them a try.
Here is the books available this week: (Week 1: April 25 – May 2)
This audio edition of Swing by New York Times bestselling author Kwame Alexander and Mary Rand Hess (Solo) combines Kwame Alexander's narration with jazz music flourishes to tell a lyrical story about hope, courage, and love that will speak to anyone who's struggled to find their voice.
And the surprise ending shines a spotlight on the issues related to our current social divide, challenging perspectives and inspiring everyone to make their voice heard.
When America is not so beautiful, or right, or just, it can be hard to know what to do.
Best friends Walt and Noah decide to use their voices to grow more good in the world, but first they've got to find cool. Walt is convinced junior year is their year, and he has a plan to help them woo the girls of their dreams and become amazing athletes. Never mind that he and Noah failed to make the high school baseball team yet again, and Noah's love interest since third grade, Sam, has him firmly in the friend zone. Noah soon finds himself navigating the worlds of jazz, batting cages, the strange advice of Walt's Dairy Queen-employed cousin, as well as Walt's "Hug Life" mentality.
Status quo seems inevitable until Noah stumbles on a stash of old love letters. Each page contains the words he's always wanted to say to Sam, and he begins secretly creating artwork using the lines that speak his heart. But when his private artwork becomes public, Noah has a decision to make: continue his life in the dugout and possibly lose the girl forever, or take a swing and finally speak out?
At the same time, numerous American flags are being left around town. While some think it's a harmless prank and others see it as a form of peaceful protest, Noah can't shake the feeling something bigger is happening to his community. Especially after he witnesses events that hint divides and prejudices run deeper than he realized. As the personal and social tensions increase around them, Noah and Walt must decide what is really true when it comes to love, friendship, sacrifice, and fate.
Two street kids get tangled in a plot over their heads—and risk an unexpected connection—in this heart-pounding thriller by Tim Wynne-Jones.
Boy, did Blink get off on the wrong floor. All he wanted was to steal some breakfast for his empty belly, but instead he stumbled upon a fake kidnapping and a cell phone dropped by an ""abducted"" CEO, giving Blink a link to his perfect blonde daughter. Now Blink is on the run, but it's OK as long as he's smart enough to stay in the game and keep Captain Panic locked in his hold.
Enter a girl named Caution. As in "Caution: Toxic." As in "Caution: Watch Your Step." She's also on the run, from a skeezy drug-dealer boyfriend and from a nightmare in her past that won't let her go. When she spies Blink at the train station, Caution can see he's an easy mark. But there's something about this naïve, skinny street punk, whom she only wanted to rob, that tugs at her heart, a heart she thought deserved not to feel.
Charged with suspense and intrigue, this taut novel trails two deeply compelling characters as they forge a blackmail scheme that is foolhardy at best, disastrous at worst—along with a fated, tender partnership that will offer them each a rare chance for redemption.
**I definitely want to listen to both of these books especially Blink & Caution because I will be meeting the author in May.**