Title: More Than a Phoenix (2nd book in the Phoenix Brothers series)
Author: Ashlyn Chase
Pub Date: September 25th, 2018
Publisher: Sourcebooks
About the book:
What do you get when you take
Two phoenix shifter brothers
Throw in one powerful witch
And one…monkey shifter?
Mallory Summers is losing it. She's discovered she can talk to dead people—and she might be able to shift to monkey form. Firefighter Dante Fierro knows the quirky beauty isn't crazy—just supernatural. But what would she think if she knew his secret?
Hothead Noah Fierro has his own sparks flying with gorgeous ER doctor Kizzy Samuels. While the attraction is mutual, so are the supernatural secrets. With this much sizzle going on, how do you not get burned?
Fighting fires is easy… Finding love is the hard part.
Find it:
Amazon: https://amzn.to/2KKIiAO
Apple: https://apple.co/2KOJgw9
About the author:
Ashlyn Chase was a registered nurse for twenty years.  During those years she wrote articles for professional journals and a thesis, but eventually, thank goodness, discovered the joy and freedom of writing fiction.
Ashlyn considers herself lucky.  Her degree in behavioral sciences is a combination of psychology and sociology, so she has studied people most of her life.   She doesn't have to write out exhaustive character sketches to understand her characters or predict how they will behave.  That doesn't mean they don't surprise her.  Sometimes they take her on grand unexpected journeys.
Ashlyn has learned to go with the flow.  To enjoy the journey is not only one of her writing goals, but also a challenge in life.  She tries to follow where the story takes her.  Her identified theme involves characters who reinvent themselves.  And why not?  She has reinvented herself numerous times—from artist, to nurse, to hypnotherapist, to author, and she has lived in seventeen different places.  At last, she's all settled down and comfy in New England.
Is there a grand design or do we decide our own fates?  Perhaps if the powers-that-be have a plot, then they also give us the right to revise it.
Other Books In the Series: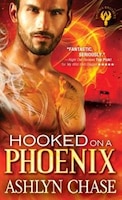 Earlier this week I shared my review of Hooked On A Phoenix which you can read here.
Today I am going to talk briefly about More Than a Phoenix. Since this is the 2nd book in the series I will try not to go into much detail about it.
As I was searching around I did find out that the Boston Dragons does tie in with the Phoenix Brothers series but its okay you really don't need to read it before starting this series but if you are the kind of reader who wants more background history then yes you should start with the Boston Dragon series. I know I am that kind of reader so I will be needing to read that series ASAP.
In this book we learn more about Dante and his mate Mallory along with Noah and his mate Kizzy. Both of these women are completely different but I think so suited for them. At first I thought there would be a lot going on and that it would make the story complicated but it doesn't because both brothers work so well together and they are pretty much each others best friend. Yes they still have their differences but it all works out in the end.
Dante and his mate Mallory have a secret that no one knows about just yet anyways. Mallory thinks she is going crazy when she turns into a monkey. Turns out that this only happens when she is stressed  and if that wasn't bad enough she also sees dead people who she thinks are real. Thankfully with the help of Dante she is able to see things clearly and wants to know why this is happening to her. She soon realizes that she isn't the only one able to shape shift. Dante is the perfect match for her because he is supporting and caring of her. Plus she is his secret high school crush and he is able to finally tell her.
Noah and his mate Kizzy I have to say are another fun couple to read and get to know. There is more to Kizzy then meets the eye. She is an ER doctor by day and a witch doctor by night that no one knows about until she meets Noah and Noah discovers there is more to Kizzy then meets the eye.
I have to say that as much as I loved reading about Dante and Mallory I really enjoyed Noah and Kizzy a little more because Noah has something that Kizzy needs and wants and Noah will do anything to protect it and her.
Looking forward to continuing this series.
Rafflecopter:
a Rafflecopter giveaway

Mallory Summers was trying to chat with a nice young man about the weather, but couldn't help being distracted by two old biddies sitting on the bus bench, peaking at her from under their umbrellas.
One old woman leaned toward the other and whispered loudly, "Tsk. Tsk. Such a sweet young thing…"
"It's a shame," said the other one.
Shame? Should I be ashamed for chatting up a nice-looking guy and offering to share my umbrella? Just to make sure the gossips knew how unashamed she was, she turned back to the young man and spoke louder. "Yeah, I saw the weather report this morning. It's supposed to rain until about noon."
The guy just nodded. He was a little hard to engage in conversation.
Still, she persisted. "That will probably keep people at home, so my work at the mall will be slow."
Out of the corner of her eye, she spotted one of the women waddling up to a guy in uniform. They were farther away, so she couldn't hear what they were saying.
A few moments later, he approached her slowly. He was a handsome devil. She could only imagine what the interfering old woman had said. Probably warned him not to be taken in by the young lady's flirtatious ways.
"Uh, hi," the guy said, smiling. He had stunning brown eyes, with thick, dark lashes most women would envy. One of the patches on his uniform looked just like the one on her uncle's Boston Fire Department uniform.
She suddenly realized he looked familiar. "Hi. Do I know you?"
The young man paused. His smile turned into a grin, lighting up his handsome face. "I know you. You're Mallory Summers."
"Right—and you are…"
"Dante Fierro, and I'm wondering who you're talking to."
"Huh?" Well, that's rude. Why should anybody care? She was about to say as much when she turned back to the guy in question to apologize for everyone else's bad manners—but he was gone.
"Where did he go?" she asked.
"Where did who go?"
"The man… I don't know his name. And—wait a minute… You're the Dante Fierro from high school?"
"Yup. So you do remember me."
"Of course."
"Do you always hold conversations with blank air?"
"What the heck are you talking about?"
"Mallory, these ladies have seen you at this bus stop three times, talking to yourself. They won't call the cops, because you're not doing anything illegal, and they don't want to call an ambulance, which would be expensive, but they're worried about you."
Mallory jammed her hands on her hips and strode over to the two old ladies. "You should be minding your own business."
They leaned away from her as if they might catch an airborne virus.
"Mallory…" Dante gentled his voice. "I don't live far from here. Why don't you come over for coffee and we can talk."
"Because I have to go to work. I take two buses to get to my job at the Union Mall."
"I can drive you."
The weather didn't look like it was going to let up, and a nice warm car sounded good. She shrugged. "I don't want to put you out. You look like you're on your way to work too."
"I'm on my way home, actually. Come on. It's no trouble."
She smiled. "Well, now that I realize who you are, it would probably be okay to accept a ride. After all, it's not like you're a complete stranger."
"Good." He stuck out his elbow like he was escorting her to a fancy ball. "Let's go."
She slipped her hand into the crook of his arm and gave the old busybodies a glare as they passed.
He lived around the corner in a nice two-family house on L Street, a stone's throw from the main drag, which bordered the beach.
"I shouldn't stay for coffee. I can get coffee at the mall. Is that your car?" She nodded toward a black Camaro with bright-red racing stripes down the side.
"Yup. My brother Noah calls it my wife."
"Your wife? Why?"
"Because I named her Joanna, and I take good care of her. He says it's because she eats up half my paycheck."
She giggled. "Okay. Well, nice to meet you, Joanna." As they approached the passenger's side, she realized how talking to an inanimate object might also make her look like a crazy person—and he'd already caught her talking to, what…a dead guy? Maybe someone who stepped in front of a bus many years ago… She still wasn't sure what was going on. Could two old ladies be punking her?
He just smiled, dug the key fob out of his pocket, and opened the door for her.
She settled herself on the comfortable leather seat and looked around. His car was indeed in pristine condition. It didn't have that new car smell, but it looked as if it could have.
He jumped into the driver's seat and pulled out of the driveway. "Where to?"
"I work at the mall in Somerville. I thought I already said so."
He drove in the general direction of the expressway, but stayed quiet for a few moments. At last, he asked, "Mallory, are you sure you should be going to work?"
She reared back and stared at him. What was he saying? And did she want to know? "Yeah. Why wouldn't I?"
He glanced over at her. "It's just that… Well, you… I mean…"
"Just say it, Dante. You think I'm nuts."
"No, not nuts. I wouldn't put it that way, but maybe…I don't know, stressed?"
"Nope. I'm an artist, and having a creative outlet decreases stress. To pay the bills, I take professional portraits at the mall. Kids' photos mostly. But I like kids, so that's not very stressful either."
"Please don't be offended, but…are you on drugs?"
She burst out laughing. "No. Are you?"