The Marrow Thieves
by Cherie Dimaline
Published by
Dancing Cat Books on September 1, 2017
Pages:
231
Goodreads
In a futuristic world ravaged by global warming, people have lost the ability to dream, and the dreamlessness has led to widespread madness. The only people still able to dream are North America's Indigenous people, and it is their marrow that holds the cure for the rest of the world. But getting the marrow, and dreams, means death for the unwilling donors. Driven to flight, a fifteen-year-old and his companions struggle for survival, attempt to reunite with loved ones and take refuge from the "recruiters" who seek them out to bring them to the marrow-stealing "factories."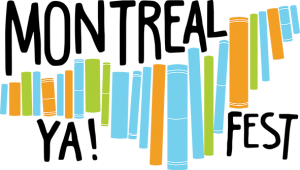 Before I begin my review I should just let you know that all this month I will be posting reviews of all the books I read by the authors that will be appearing at this years Montreal YA Fest that is happening later this month.
Cherie Dimaline is one of the authors that will be here. I am super excited to hear her speak and to meet her afterwards. She is a Canadian author.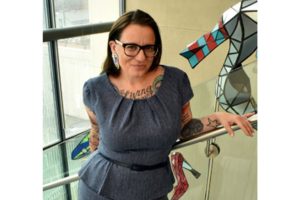 About the author: 
Cherie Dimaline is an award-winning Métis author and editor whose award-winning fiction has been published and anthologized internationally. In 2014, she was named the Emerging Artist of the Year at the Ontario Premier's Award for Excellence in the Arts and became the first Aboriginal Writer in Residence for the Toronto Public Library. Her fourth book, The Marrow Thieves, is a national bestseller and has won the Governor General's Literary Award, the Kirkus Prize, the Amy Mathers Teen Book Award, the Burt Award for First Nations, Inuit and Métis Young Adult Literature, and the Sunburst Award. It was also selected for CBC's Canada Reads in 2018 and has been a finalist for the Ruth and Sylvia Schwartz Children's Book Award, the Trillium Award and the White Pine Award.

I am always excited to discover new books especially ones written by Canadian authors that take place in Canada. The Marrow Thieves takes place in a city that use to be called Toronto.
The Marrow Thieves opens up in a world that is nearly destroyed by global warming.  We discover that non-indigenous people have lost the ability to dream and the only ones who can still dream are the Indigenous people. The Indigenous people are being hunted and captured for this reason because their bone marrow has the ability to have their dreams woven into it. They are being taken to marrow harvesting facilities.
Our main character is Frenchie, who is a young Metis who is on the run from the recruiters who are sent out to capture them. Frenchie bumps into a group of eight kids (Miig, Wab, Zheegwon, Tree, RiRi, Minerva, Chi-Boy, and Slopper) are are doing the same thing with plans on heading North to escape.
As he spends time and years with this group he gradually matures and with that he becomes more confident and resourceful. Growing up he realized he could never protect his family but as he gets older he will do anything to protect his new family. He realizes he would do anything to protect them as they would do the same for him.
Life on the run is not easy for this group but they do anything and everything to stay together to survive from finding food to eat, water to drink, finding shelter and avoiding the recruiters. Will they be able to stay together and make it North?
I have to say that this was such an interesting and powerful read. One that I think more young adults should read. Throughout the history, indigenous people have always been mistreated and continue to be mistreated. I would think that some of the inspiration behind the story line was came from how they were treated in residential schools which has been in the news over the past few years. Abuse and racism still haunts them and as a society so many people tend to ignore it and pretend it never happened.
Can we ever get to the point of treating everyone no matter their skin color like they are human and they matter?