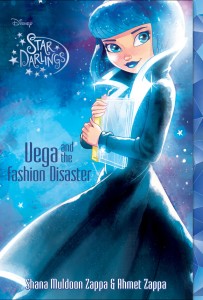 Star Darlings Vega and the Fashion Disaster
Series:
Star Darlings #4
by Shana Muldoon ZappaAhmet Zappa
Format:
Paperback
Published by
Disney Press on January 5th 2016
Pages:
176
Goodreads
Genres:
Chapter Books, General, Readers, Young Adult
There are lots of strange things going on at Starling Academy these days: Leona is devastated about her Wish Pendant failure. Ophelia, the newest Star Darling, is completely clueless. Vega's roommate, Piper, is getting on her last nerve. And Scarlet? Who knows? She's nowhere to be found!So when by-the-book Vega gets sent to Wishworld on the next mission, she finds herself very distracted. Why is her Wisher so secretive? Vega needs to solve this puzzle fast. Time is running out and Starland needs every drop of wish energy itcan get!
This is the fourth book in the Star Darlings series.
The strangeness continues but gradually I think a few are realizing what is the cause of the problems amongst the girls.  I am just curious to who sent the bouquets to the girls. Was it one of them? Was it someone else?
In this book we discover how shy and clueless Ophelia is and I question why she was brought into the Star Darlings. Is she behind the flowers?
The behavior of the girls is out of hand with the room mates fighting and I wonder why none of the adults are noticing this behavior. Is this part of a test?
Now is Vega's turn to go to Wishland but she is having a hard time finding her wishling. Why is she so secretative? Its like taking candy from a baby and you can see Vega is stressed because she wants to go back with success but its hard to crack the case.
I think this cover was one of my favorites and I did enjoy the story. These are pretty fast reads and I think tween girls will like this series. Check back tomorrow for my 5th review.