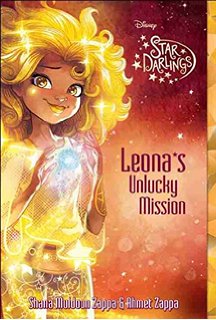 Star Darlings Leona's Unlucky Mission
Series:
Star Darlings #3
by Shana Muldoon ZappaAhmet Zappa
Format:
Paperback
Published by
Disney Press on January 5th 2016
Pages:
176
Goodreads
Genres:
Action & Adventure, Chapter Books, Fairy Tales & Folklore, General, Readers, Young Adult
Leona is very focused on her studies and is especially busy as the lead vocalist in the Star Darlings band.Star-Zaps start buzzing, and the girls know it's probably time for one of them to head to Wishworld.It's Leona's turn, and she's bursting with excitement. She can't wait to get there and become a successful Wish-Granter. But she'll have to challenge herself to put her own desires aside and truly understand what her Wisher needs-before her Countdown Clock runs out of time.
This is the third book in the Star Darlings series.
What I am really liking about the books so far is that each girl is completely different from each other but they all seem to compliment each other in some way.
I just have to take a minute to talk about the books themselves. For some reason middle grade books have the best covers and you can see alot of work went into each and every book from each girl having their books printed in their color. I love the covers because it shows the girls what they look like when they are Star Darlings and what they look like when they go to Wishland.They don't even look the same.
The mystery bouquets of flowers are still causing problems amongst the girls and the girls are all wondering what happened to Scarlet and why did she get kicked out of the Star Darlings. Then to add more confusion to the mix a new girl, Ophelia has replaced her.
I was once again a little confused with a particular point in the book where all of a sudden Cassie and Leona seem to be the best of friends considering they never really spoke or hung out before. It just seemed a little odd to me. Could it have something to do with the flowers?
For me Leona wasn't my favorite Star Darling of the series as I found her to be a bit annoying with her self centeredness and her lack of compassion and caring for another sister.
This is Leona's turn to go to Wishland. Leona's wishling is a shy girl named Lily. Leona thinks she hit the jackpot when she finds out that Lily likes to sing so she convinces her to try out for the talent show. When she agrees Lily's dreams are crushed when a bunch of mean girls make fun of Lily. She manages to convince her to go through with it just the same.
Leona thinks things are on track with her mission but quickly realizes that its not all going as planned. When she successfully collects the energy on the girls are on their way back Leona's wish pendant is destroyed. This is the first time its ever happened. What could it be that caused it?
Check back tomorrow for my fourth book review in the series.