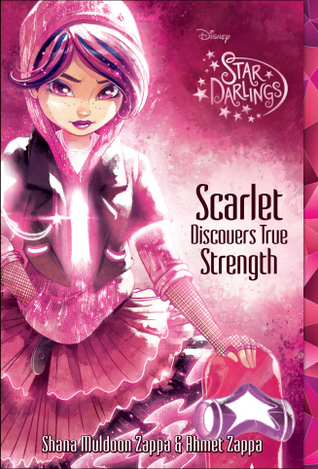 Star Darlings Scarlet Discovers True Strength
Series:
Star Darlings #5
by Shana Muldoon ZappaAhmet Zappa
Format:
Paperback
Published by
Disney Press on January 5th 2016
Pages:
176
Goodreads
Genres:
Action & Adventure, Chapter Books, Fairy Tales & Folklore, General, Readers, Young Adult
Scarlet has been keeping to herself. But she is convinced that her removal from the Star Darlings was a terrible mistake.With Vega's help she starts an investigation. Meanwhile, Ophelia is chosen to go on a Wishworld mission, for which she is hopelessly unprepared. Will Scarlet be the one to rescue Ophelia and the mission?
This is the fifth book in the Star Darlings series.
I think up until now my favorite Star Darling has to be Scarlet. I think I like Scarlet the most because she is one of those girls that will tell it like it is and if you like me you do if you don't I don't care kind of girl. She is like this rocker girl in my opnion.
Some girls in the Star Darlings things come easy to them but you can see Scarlet has to struggle and that is the appeal I like in her. She works hard and I think that is a good thing girls should know that yes some girls or kids things just come easy for them and other kids you have to work to make things happen and more kids should realize that.
Its nice to get a little background story on Scarlet and find out who Scarlet is and where she comes from. All the girls come from different places and from different walks of life which is nice because not all the girls have the perfect home life.
Scarlet is determined to find out why she got kicked out of the Star Darlings and why Ophelia got in. She knows something isn't right and she is determinded to find out what happened. With the help of her room mates costumes she goes under cover to sneak into the records room to see what is up. The girls want Scarlet back with the group.
Also in this book the truth about the mysterious flowers is begin to be revealed and the more I thought about it I think a teacher is involved someway. I can't wait for this to be revealed.
In this book its Ophelia that is sent to Wishland and you can see she is not prepared for it and this is when you wonder why she is in the star Darlings because she clearly doesn't belong there but thankfully Scarlet is chosen to go and help and it was nice to read that Scarlet and Ophelia were getting along and workig together to help their wishling even though you clearly knew that it was Scarlet who would be rewarded.
This was one of my favorites in the series. Sadly I have one more book to review and then I will have to wait for the other 6 to be released.