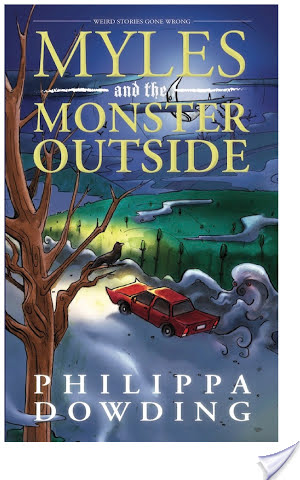 Myles and the Monster Outside
Series:
Weird Stories Gone Wrong #2
by Philippa Dowding
Format:
ARC
Published by
Dundurn on September 19th 2015
Pages:
128
Goodreads
Genres:
Fantasy & Magic, Horror & Ghost Stories, Monsters, Young Adult
Book Summary:
The second instalment in a series of scary tall tales from acclaimed children's novelist Philippa Dowding. I will never leave this car, the back seat reeks of everything my little brother has ever eaten, and that thing is still out there ... Myles and his family have been driving for four days. It's their final night on the road, but Myles knows they will never arrive at their new house. It will never stop raining. And even if they do get there (which is doubtful), he knows he will never have friends again. He also knows that something is following them in the dark, rainy fields outside their car. Something monstrous. Once the monster arrives, things go very wrong. Myles and his family get lost, their car keeps breaking down, and a strange old man and his dog turn up, again and again. Then things get really weird. Myles is pretty sure it's all his fault: he's the only one who can see the monster. He's the only one who can hear the monster. And hardest of all? He's the only one who can make it go away.
I received this book for free from publisher/pr firm in exchange for an honest review. This does not affect my opinion of the book or the content of my review.
I should begin this review by saying yes this is the second book in the Weird Stories Gone Wrong series but they are totally stand alones meaning you don't need to read the previous one to know what is happening. The first book is called Jake and the Giant Hand and it came out last year.
One of the great things about getting to work with Dundurn Press is being exposed to some great and talented Canadian authors which I truly need to read more of.
Reading Myles and the Monster Outside brought me back to when I was a child and leaving my grandparents house in Montreal to return to Bathurst (NB) during summer vacations and driving at night along some pretty dark and scary roads so reading this I instantly remember that I was exactly like Myles and thinking there was monsters outside my window because you always saw something that would look like something scary.
Myles is a twelve year old boy who is traveling with his mother, sister and baby brother to their new home. Its a long four days of traveling for the family. Myles is excited to see his dad who is relocating the family to a new city for his job.
Myles can't wait to get out of the car because its beginning to stink of everything imaginable because the family has practically been living in the car since they left their old house.
The trip is going good until they take a ferry ride on a cold stormy day and Myles see's something looming near by. In the mist he sees what looks like a monster shaped like a man with red eyes and you know that this is the beginning of the tension and suspense that is about to happen. Myles doesn't say anything to anyone because at first he doesn't believe it but gradually he begins to think that is real.
Once off the ferry they are back on the road and its seems like they are headed for diaster because if its not one thing its another and this basically has Myles freaked out and I think had I been in that same situation I would have been the same way.
Finally with all these things happening Myles decides to speak up and of course no one believes him and there were telling it like it was and not playing along with Myles. Finally after a weird encounter with a old man in the middle of the night in the rain wandering around has the family believing him.
Philippa Dowding did an amazing job telling the story. She was very descriptive with the book and I think most people probably has experienced the same things as Myles did in the book in their real lives. Granted mine was never like Myles's but I did think there were monsters or something chasing us.