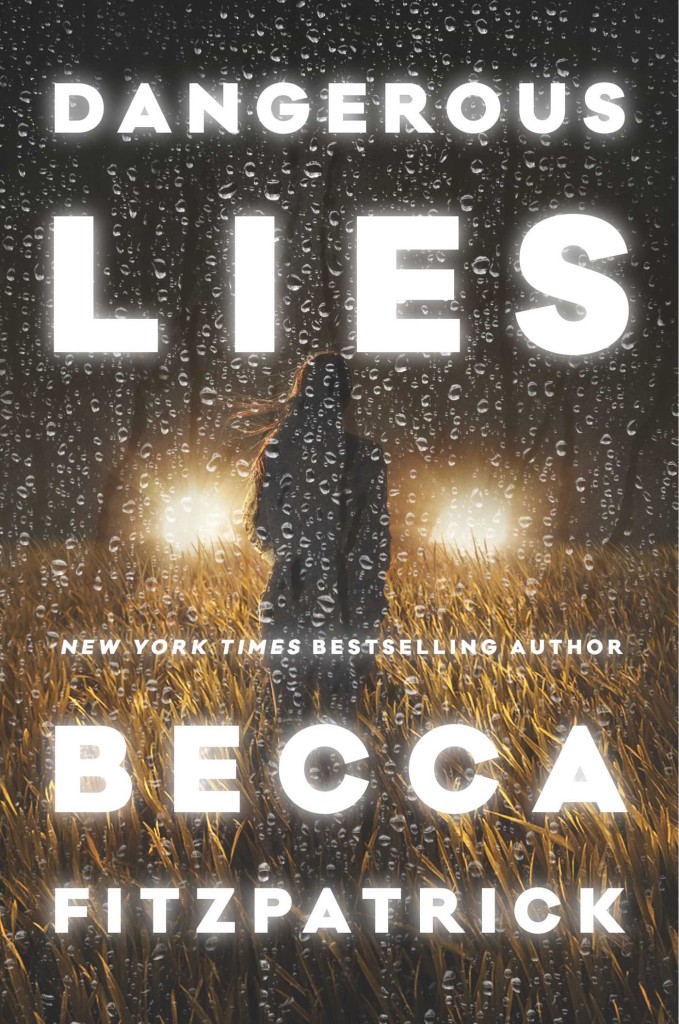 Dangerous Lies
by Becca Fitzpatrick
Format:
eARC
Published by
Simon and Schuster on November 10th 2015
Pages:
400
Goodreads

Genres:
Love & Romance, Mysteries & Detective Stories, New Experience, Social Issues, Young Adult
Book Summary:
A teen is forced to make a fresh start after witnessing a violent crime—but love and danger find her anyway in this novel from Becca Fitzpatrick, the New York Times bestselling author of the Hush, Hush saga.Stella Gordon's life is a lie. She does not belong in Thunder Basin, Nebraska. As the star witness in a murder trial against a drug dealer, Stella is now in the Witness Protection Program. The small town locals can never know who she really is. Not even Chet Falconer, the one boy who makes her want to reveal her true self. She knows that telling the truth will only bring violence to this safe haven. Despite how hard Stella tries to stay under the radar, danger is fast-approaching. Criminals have a way of getting rid of witnesses, and Stella may have made the one mistake that could lead the cold-blooded men hunting for her right to her doorstep.
I received this book for free from publisher/pr firm in exchange for an honest review. This does not affect my opinion of the book or the content of my review.
I was recently contacted by Simon & Schuster Canada asking if I would be interested in reading and reviewing this for my blog and I instantly said yes because its been a book that has peaked my curiousity since first hearing about it.
I recently saw the hardcover of the book and I have to say that I love the cover. The rain drops on the final cover are all embossed and it makes the book stand out although I have to say that I feel the cover really doesn't go with the book per say but I did love it just the same.
I know I am going to get some flack when I say this but I have never read any of Becca's previous books (The Hush Hush Sage and Black Ice) and I do own them all and I think I might have to dig them out to read because I loved Dangerous Lies.
Dangerous Lies was pretty much a quick read for me. I started it Wednesday night at bed time and by Thursday night I had finished the book. I literally could not put it down because it was a fast paced action thriller, mystery book to say the least.
Estella (AKA Stella) is placed in the witness protection because she is suppose to testify against a drug cartel that her mother was involved with. She stumbled upon a dead body in her living room and witness the killer kidnapping someone.
Her mother is sent to rehab and Stella is sent to Thunder Basin, Nebraska. Stella is not happy to say the least because she is basically dropped off in the middle of no where USA and placed with a lady, Carmina who thinks she knows whats best for a soon to be adult in a few months and has laid down the ground rules for Stella staying with her. Of course Stella tries  to rebel but gradually things begin to change between these two stubborn headed girls.
When Stella lands in Thunder Basin its basically until she turns 18 and then she is out of there but I think once she is there she just might have a few people who will change her mind such as Chet. I loved Chet and I think he was the perfect match for Stella. In the beginning Stella was trying to remain true to Reed her boyfriend from back home who was also placed in the witness protection program because he also was there and he actually witnessed it all. Then gradually Chet broke down the wall and Stella realized she couldn't resist him.
I have to admit at first I didn't care for Stella because of her attitude and I got it and it sucks being torn away from what and who you know and resume your life as a new person but still have all those previous memories. Gradually I did warm up to her and I loved that she was going to make the changes so that this process could work.
I don't want to say much more because I feel as though I will give it away but I will say that the last part of the book is insane and you will literally be glued to the pages because you can't and won't be able to put it down. The ending/plot literally threw me for a loop and left me saying "WTH"  as I did not see that coming.
I really hope there is a book two because I don't think this story is done. I would love to know what happens to Stella and Chet as well as Chet's brother Dusty and his girlfriend, Inny.