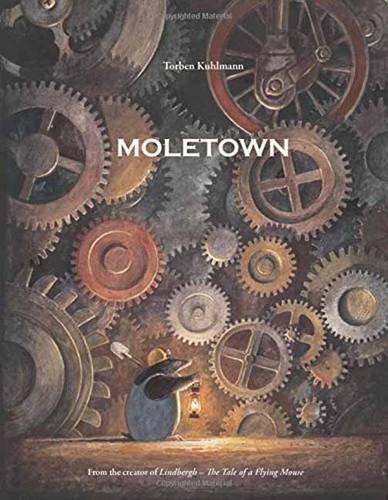 Moletown
Format:
eARC
on October 1, 2015
Pages:
32

Torben Kulhmann's stunningly illustrated, nearly wordless tale offers a fascinating window into an imaginary, yet hauntingly familiar word under our feet, where a mole suddenly recognizes the precarious balance between progress and preservation. Kulhmann's open ended text encourages thoughtful exploration into possible solutions, and his delightful endpapers depict a montage of solutions that could very well save the moles' world and ours.
I received this book for free from publisher/pr firm in exchange for an honest review. This does not affect my opinion of the book or the content of my review.
I wasn't quite sure what to expect when I opened this picture book but I have to say I was blown away with the illustrations in the book. The illustrations are beautiful.
There isn't a written story per say but the illustrations tell the story.
The history of Moletown is very similiar to our history. When Moletown was founded back in the day it was all very simple and nothing fancy like it was for us but as time evolves and changes with technology happen so do our lives and the lives around us. This is the case for Moletown.
A mole discovers this beautiful green spot that no one has discovered yet but that doens'tand slowly as time moves on this little green spot is no longer there much like our world right?
This will definitely be a picture book I plan on purchasing.