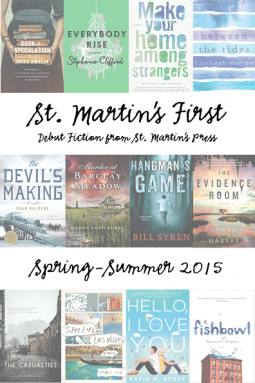 St Martin's Spring-Summer 2015 Sampler
Format:
eBook
on July 31st, 2015
I believe this is the second time St. Martin's has put together a sampler of its debut titles for the spring and summer of 2015.
I love when publishers do this because it allows us the reader to get a snippet of what new and exciting books are coming out plus it gives you the chance to read a bit to peek your interest. For me this is a great way to discover a new author that I might normally pass up when your at the bookstore plus it allows me to perhaps dig into a book that I might not normally pick up otherwise.
This was the case with this sampler. I have discovered a few hidden gems that I think I would have missed out on otherwise. There is fifteen debut books talked about in this sampler.
Here is the books that were in the sampler:
Make Your Way HOme Among Strangers by Jennine Capo Crucet
Murder at Barclay Meadow by Wendy Sand Eckel
Letters to the Lost by Iona Grey
The Devils Making by Sean Haldane
The Evidence Room by Cameron Harvey
The Casualties by Nick Holdstock
The Secrets of Lake Road by Karen Katchur
Between The Tides by Susannah Marren
Fishbowl by Bradley Somer
Hangman's Game by Bill Syken
Three Rivers by Tiffany Quay Tyson
The Art of Baking Blind by Sarah Vaughan
Here is the books that peeked my interest and have been added to my wishlist of books to get.
I am actually excited because I got to pick this up at #BEA15.
"A masterful tale of social climbing and entrenched class distinctions, as seen through the eyes of an outsider who desperately wants in. Tense, hilarious, and bursting with gorgeous language. Stephanie Clifford is a 21st-century Edith Wharton." -J. Courtney Sullivan, New York Times bestselling author of The Engagements
It's 2006 in the Manhattan of the young and glamorous. Money and class are colliding in a city that is about to go over a financial precipice and take much of the country with it. At 26, bright, funny and socially anxious Evelyn Beegan is determined to carve her own path in life and free herself from the influence of her social-climbing mother, who propelled her through prep school and onto the Upper East Side. Evelyn has long felt like an outsider to her privileged peers, but when she gets a job at a social network aimed at the elite, she's forced to embrace them.
Recruiting new members for the site, Evelyn steps into a promised land of Adirondack camps, Newport cottages and Southampton clubs thick with socialites and Wall Streeters. Despite herself, Evelyn finds the lure of belonging intoxicating, and starts trying to pass as old money herself. When her father, a crusading class-action lawyer, is indicted for bribery, Evelyn must contend with her own family's downfall as she keeps up appearances in her new life, grasping with increasing desperation as the ground underneath her begins to give way.
Bracing, hilarious and often poignant, Stephanie Clifford's debut offers a thoroughly modern take on classic American themes – money, ambition, family, friendship – and on the universal longing to fit in.
When Walter Stahl was five-years-old, his mother drove away in the family's blue Volvo and never came back. Now seventeen, living in the dregs of Las Vegas, taking care of his ailing father and marking time in a dead-end job along the Strip, Walter's life so far has been defined by her absence. He doesn't remember what she looks like; he's never so much as seen a photograph but, still, he looks for her among the groups of tourists he runs into every day, allowing himself the dim hope that she might still be out there, somewhere.
But when Walter meets Chrysto and Acacia, a brother and sister working as living statues at the Venetian Hotel, his world cracks wide open. With them he discovers a Las Vegas he never knew existed and, as feelings for Chrysto develop, a side of himself he never knew he had. At the same time, clues behind his mother's disappearance finally start to reveal themselves, and Walter is confronted with not only the truth about himself, but also that of his family history.
Threading through this coming-of-age story are beautiful, heart-wrenching graphic illustration, which reveal the journey of Walter's mother Emily: how she left everything to chase a vision of Liberace across the country; and how Walter's father Owen went searching for her amongst the gondolas of the Venetian Hotel.
In James Sie's debut novel, Still Life Las Vegas, the magical collides with the mundane; memory, sexual awakening and familial ties all lead to a place where everything is illuminated, and nothing is real.
Grace Wilde is running-from the multi-million dollar mansion her record producer father bought, the famous older brother who's topped the country music charts five years in a row, and the mother who blames her for her brother's breakdown. Grace escapes to the farthest place from home she can think of, a boarding school in Korea, hoping for a fresh start.
She wants nothing to do with music, but when her roommate Sophie's twin brother Jason turns out to be the newest Korean pop music superstar, Grace is thrust back into the world of fame. She can't stand Jason, whose celebrity status is only outmatched by his oversized ego, but they form a tenuous alliance for the sake of her friendship with Sophie. As the months go by and Grace adjusts to her new life in Korea, even she can't deny the sparks flying between her and the KPOP idol.
Soon, Grace realizes that her feelings for Jason threaten her promise to herself that she'll leave behind the music industry that destroyed her family. But can Grace ignore her attraction to Jason and her undeniable pull of the music she was born to write? Sweet, fun, and romantic, Katie M. Stout's Hello, I Love You explores what it means to experience first love and discover who you really are in the process.
"Dazzling…[a] quirky, raucous, and bewitching family saga." –Sara Gruen, author of Water for Elephants
Simon Watson, a young librarian, lives alone in a house that is slowly crumbling toward the Long Island Sound. His parents are long dead. His mother, a circus mermaid who made her living by holding her breath, drowned in the very water his house overlooks. His younger sister, Enola, ran off six years ago and now reads tarot cards for a traveling carnival.
One June day, an old book arrives on Simon's doorstep, sent by an antiquarian bookseller who purchased it on speculation. Fragile and water damaged, the book is a log from the owner of a traveling carnival in the 1700s, who reports strange and magical things, including the drowning death of a circus mermaid. Since then, generations of "mermaids" in Simon's family have drowned–always on July 24, which is only weeks away.
As his friend Alice looks on with alarm, Simon becomes increasingly worried about his sister. Could there be a curse on Simon's family? What does it have to do with the book, and can he get to the heart of the mystery in time to save Enola?
In the tradition of Sara Gruen's Water for Elephants, Erin Morgenstern's The Night Circus, and Elizabeth Kostova's The Historian, The Book of Speculation–with two-color illustrations by the author–is Erika Swyler's moving debut novel about the power of books, family, and magic.
Most of these books are released and are available to purchase.
Its looking like this summer will be great for reading. Do any of these books interest you?
I am excited to pick up a few of these titles to read.