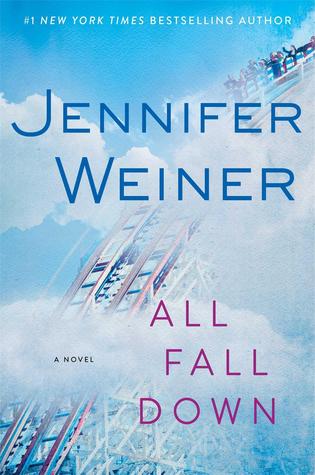 All Fall Down
by Jennifer Weiner
Format:
Hardcover
Published by
Simon and Schuster on April 7th 2015
Pages:
400
Goodreads
Genres:
Contemporary Women, Family Life, Fiction, General, Literary
From a #1 New York Times bestselling author comes her "best book yet" (Philadelphia Inquirer), a "compulsively readable" novel that shows "there's no doubt Weiner knows how to deliver a certain kind of story, and well" (The New York Times Book Review).Allison Weiss got her happy ending—a handsome husband, an adorable daughter, a job she loves, and the big house in the suburbs. But while waiting in the pediatrician's office, she opens a magazine to a quiz about addiction and starts to wonder…Is a Percocet at the end of the day really different from a glass of wine? Is it such a bad thing to pop a Vicodin after a brutal Jump & Pump class…or if your husband ignores you? She tells herself that the pills help her make it through her days…but what if her increasing drug use, a habit that's becoming expensive and hard to hide, is turning into her biggest problem of all? Hailed as "a witty, realistic criticism on the modern age" (Boston Herald), this remarkable story of a woman's fall into addiction and struggle to find her way back up again is Jennifer Weiner's most masterful, moving, and celebrated work yet.
I have read a few books by Jennifer Weiner and I always enjoy reading them and I always wonder why I haven't read more of her books. I think this summer I am going to make an effort to read her books.
Allison is almost like your typical woman. She is a wife, a mother, a daughter, a blogger, a friend and so much more. Looking at Allison you would think she has the perfect life that we all want with the good looking husband, a successful career, a big beautiful house in the suburbs. But what Allison also has is a dirty little secret that could rock her whole world if anyone finds out about it.
What could her dirty little secret be? Well Allison is addicted to pain killers. Her drug of choice is Oxy but as the story progresses will that be enough? In the beginning her addiction is fairly low but gradually with having to deal with a 5 year old, a distant husband (could he be having an affair?) and then a sick father who has been diagnosed with Alzheimers her world begins to crumble and she needs to up her drugs just to get out of bed in the morning and to cope with the day.
Throughout the book you can see Allison is struggling and she knows what she is doing wrong but she has dug that hole that she just can't get out of. Will it take her to hit rock bottom and loosing everything before she realizes what the drugs are doing to her?
I can feel for Allison its not easy when everything gets thrown at you and you are struggle to keep your head a float. It so easy to over exert ourselves and I know there are days when I can feel I am at my breaking point. Thankfully I am not doing what Allison is doing.
As I was reading this I realized how true this story must be for some moms out there. Jennifer did a fantastic job on creating this world and characters that made you feel it was a true story. I was surprised at how fast I ended up breezing through this book. It was fast paced and so many things were going on that you had to read to find out.
It really makes you see how there is no communication between drs and perhaps drug stores when it comes to abusing prescription drugs. How can one person go to so many drs to get so many prescriptions that no one was ever questioned?