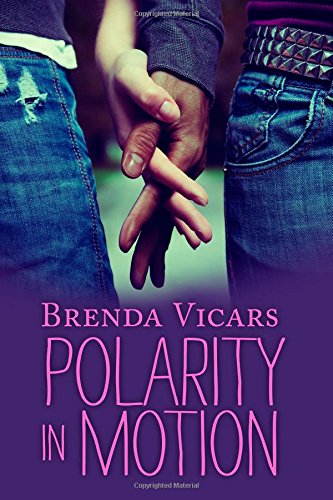 Polarity in Motion
by Brenda Vicars
Format:
eBook
Published by
Red Adept Publishing, LLC on December 1st 2014
Pages:
264
Buy on Amazon
Genres:
Bullying, Dating & Sex, Self-Esteem & Self-Reliance, Social Issues, Young Adult
Fifteen-year-old Polarity Weeks just wants to live a normal life, but with a mother diagnosed with borderline personality disorder, that's rarely easy. Her life gets exponentially more disastrous when her sixth-period history classmates start ogling a nude picture of her on the Internet. Polarity would never have struck such a shameless pose, but the photo is definitely of her, and she's at a complete loss to explain its existence. Child Protective Services yanks her from her home, suspecting her parents. The kids at school mock her, assuming she took it herself. And Ethan, the boy she was really starting to like, backpedals and joins the taunting chorus. Surrounded by disbelief and derision on all sides, Polarity desperately seeks the truth among her friends. Only then does she learn that everyone has dark secrets, and no one's life is anywhere near normal.
I received this book for free from publisher/pr firm in exchange for an honest review. This does not affect my opinion of the book or the content of my review.
I love reading debut novels because you go into the book with no expectations. I have to say that after reading Polarity In Motion I will be on the look out for future books.
As you can tell I really enjoyed reading this. It was a a page turner and one that made me want to reach into the book and hug Polarity.
Polarity the main character is not your typcial 15 year old girl. She has to move constantly because her mother needs treatments for her borderline personality disorder so this forces her to always be the new girl in school trying to fit in. Polarity had to grow up earlier then she should have and I feel she never got the chance to be that kid everyone needs to be. I loved how strong she was and how she grew with the book.
As a mother I felt so bad for Polarity because for someone who was only 15 she had a whole lot of crap to deal with and she didn't need that.
My heart broke when Polarity discovered a photo of herself online naked. She had no idea how it got there. She sees that its her but doesn't remember even posing for it. Could it be real? Is someone playing with her? Even is calling her names in school, teachers are penalizing her and to top it off her own parents don't believe her. How can her own parents not believe her?
Things only get worse when authorities get involved because they remove her from her own home because they think that her parents are involved. She is then forced to attend another school. Polarity life is turned upside down more then it has ever been before.
As a parent my first thought was to believe Polarity because she just didn't seem like that kind of girl who would do something like that no matter how hard things were for her. I instantly said to myself someone has photo shopped her hed to the photo.
Thankfully there is one person who does and that is Ethan. A boy I wish had more of a story line. Will be still be a friend to Polarity and help her uncover the truth?
To check out other tour stops for this blog tour CLICK ON THIS and it will take you to the site and you can enter to win a prize.