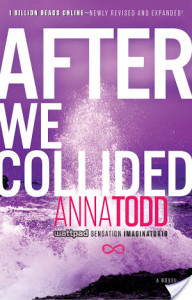 After We Collided
Series:
After Series #2
by Anna Todd
Format:
Paperback
Published by
Simon and Schuster on November 25th 2014
Pages:
688
Buy on Amazon
Goodreads
Genres:
Contemporary, Contemporary Women, Fiction, General, Romance, Romantic Comedy, Suspense, Thrillers
Book Two of the After series—now newly revised and expanded, Anna Todd's After fanfiction racked up 1 billion reads online and captivated readers across the globe. Experience the Internet's most talked-about book for yourself!Tessa has everything to lose. Hardin has nothing to lose…except her. AFTER WE COLLIDED…Life will never be the same. #HESSA After a tumultuous beginning to their relationship, Tessa and Hardin were on the path to making things work. Tessa knew Hardin could be cruel, but when a bombshell revelation is dropped about the origins of their relationship—and Hardin's mysterious past—Tessa is beside herself. Hardin will always be…Hardin. But is he really the deep, thoughtful guy Tessa fell madly in love with despite his angry exterior—or has he been a stranger all along? She wishes she could walk away. It's just not that easy. Not with the memory of passionate nights spent in his arms. His electric touch. His hungry kisses. Still, Tessa's not sure she can endure one more broken promise. She put so much on hold for Hardin—school, friends, her mom, a relationship with a guy who really loved her, and now possibly even a promising new career. She needs to move forward with her life. Hardin knows he made a mistake, possibly the biggest one of his life. He's not going down without a fight. But can he change? Will he change…for love?
This is the second book in the After series.
I was pretty excited to start this one because I really enjoyed the first one. This is by no means a quick read because this is another book at 671 pages and it took me roughly a week to read it. Although I have to admit at times I really felt like throwing the book out into the snow and just ditching it but I am going to admit that this book was a train wreck waiting to happen and you know you want to stay and watch.
I won't get into an exact review because this is the second book in the series and I don't want to spoil it for the ones who are about to read this or are planning on reading this.
The main focus of the book is of course the struggling relationship between Tessa and Hardin with a little mix of Zed thrown in.
I actually started to fall for Zed because yes he is a bad boy but I think deep down we would be a much better choice for Tessa. I think had I been Tessa I would have seriously thrown the towel in and walked away from Hardin. Tessa gives him chance after chance after chance and he still ruins it. He is ruining this poor girls life. Zed is that guy who truly cares about Tessa and I am sure they would have a perfect relationship.
Yes you can tell that I hate Hardin with a passion. He is nothing but a selfish manipulated jerk who things its okay to tell Tessa who she can and cannot speak to, see etc. This boiled my blood because no man should ever tell his girlfriend that and had it been me he would be gone. He knows how to manipulate Tessa and its sad because she is so naive she doesn't see this. Is she afraid to leave Hardin? Maybe but I know had it been me I would have been gone along time ago there would be no second, third, fourth etc chances. Hardin is a BULLY in my eyes and one that needs to be taken down a few notches.
Now with that being said will I continue on with the third book, After We Fall? More the likely because I want to see where this goes and if Tessa will develop a back bone to stand up for herself and not put up with Hardin's crap and lies.
I think I might wait to start the third book just to give myself a break from their story.
Have you read this? What do you think?