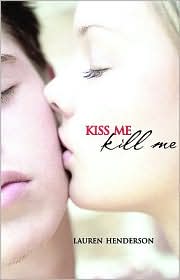 GENRE: YA
PUB DATE: January 2008
This is the first book in the series.
Scarlett the main character is 16 years old. She is a student at St Tabby's. Its a private school in London, England. Scarlett is a gymnast.
Her and her friends are not in any clic. One day after gymnastics while waiting for a ride outside. Scarlett is approach by Plum and her clic and they invite Scarlett over so they can talk to her. Her friends are mad that Scarlett turned her back on them and the 5 year friendship they had. Scarlett gets invited the one of the girls parties.
When she arrives at the party she spots Dan McAndrews her crush. Dan is popular and a star athlete at the private boys school. Dan and Scarlett go outside to be alone and he asks Scarlett to do a gymnastic routine. Unsure at first she finally agrees to do something for him. Scarlett has always wanted to kiss Dan and finally gets the chance. They kiss and then the next thing is Dan is gasping for air. Scarlett screams for help but its too late Dan has died in her arms.
The police investigate and nothing is revealed. She gets harassed and called names such as Kiss of Death. She is forced to leave St Tabby's and her grandmother brings her to her school Wakefield Hall.
Then one day at Wakefield Hall an anonymous note appears in her desk saying she wasn't responsible for Dan's death. Confused by the note and curious to find out what really happened to Dan and who killed him leads Scarlett on a mission to find out what really happened and who is responsible.
Who killed Dan and why? Read the next book in the series called Kisses and Lies.
copyright 2010, Cindy (Cindy's Love Of Books)
If you are reading this on a blog or website other than Cindy's Love Of Books or via a feedreader, this content has been stolen and used without permission.